MONTE-CARLO, Monaco (AFP) – Novak Djokovic ended Rafael Nadal's dreams of a record ninth successive Monte Carlo Masters title with a 6-2, 7-6 (7/1) victory in the final on Sunday.
The world number one had been a doubtful starter this week with an injured ankle but played through the pain to lift his first trophy in the principality, the 37th of his career and 14th at the Masters 1000 level.
It was also a huge psychological boost ahead of next month's French Open where Nadal is a record seven-time champion.
Nadal had reigned supreme at the Monte Carlo Country Club since his last loss in 2003, when he was still a teenager, and had won every edition since 2005.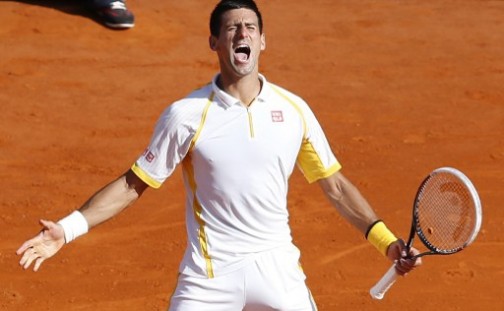 Djokovic, who achieved the win in one hour, 51 minutes, was overwhelmed.
"I cannot be happier than I am in this moment knowing what I've been through the whole week, actually two weeks, right after the Davis Cup, trying to recover and make a decision to play or not to play," admitted Australian Open champion Djokovic.
"If somebody told me 10 days ago I'd be winning the trophy, I wouldn't think it's so realistic, to be honest.
"I went through pain, I went through a big challenge, mentally, physically, emotionally, and in the end it was getting better as the tournament was going on. I can't ask for a better start to the clay season."
Nadal, who returned to tennis in February after seven months out with a knee injury, now stands 38-6 in clay finals, losing to only three players — Djokovic (three times) Roger Federer (twice) and Horacio Zeballos (once).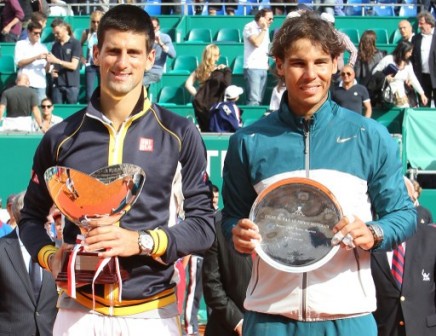 Before the final, the Spaniard had lost only one set all week after playing in his fifth straight final since his return to the circuit.
"What Novak is doing is just amazing," said the losing finalist, who had won 46 matches in succession in Monte Carlo.
"I like to win more than lose, but that's sport, it's not a tragedy. I lost after eight years without losing here — that's something.
"For me it was a positive week. I didn't have the practice in Mallorca, I just practised here before the tournament.
"With not much preparation, I was able to play in the final."
Djokovic ran away to a 5-0 lead at the start of a match delayed for almost an hour by rain.
But Nadal would not roll over, saving seven break points — five in the sixth game as he finally got on the scoreboard.
Djokovic earned the set after 47 minutes from a Nadal double-fault in the eighth game.
The Spaniard looked like turning it around with a break in the second set which gave him a 4-2 lead.
Djokovic calmly clawed it back with his precision shotmaking, levelling at four game apiece, but losing serve in the 11th game from a backhand wide.
The Serb, who came to the final with titles at the Australian Open and Dubai, broke back for 6-6 through a backhand winner to force the tiebreaker.
He ran away with the decider, seizing the win on the first of five match points with a forehand winner to the corner.
Djokovic becomes the first player to beat Nadal three times in a clay court final.
"I knew after yesterday's match that I had a feeling that I had a big chance to win against Rafa if I was on the top of my game," added the Serb.
"The first six, seven games, eight games, were unbelievable. It's the best that I can play on clay. Well, it's the only way you can win against Rafa."
He claimed his first Monte Carlo title after losing the 2009 and 2012 finals to the Spaniard.
Nadal is far from disheartened as he heads to defend his title in Barcelona next week.
"Five finals in a row — if you told me that four months before, I will be crying with emotion," he said.
"I'm just very happy to be able to play against the best players of the world another time."

Load more