Nigeria's Blessing Okagbare has posted the best women's 200m time of 2013 of 22.31 (wind +1.3m/sec) at the Mount SAC Relays on Saturday in Los Angeles, California.
The 25 year old Blessing was a Nike ambassador at the elite invitation race, which saw fellow Nike representative, Candyce McGrone coming second with a time of 22.85 (wind + 1.3/sec) and Natasha Hastings came third in 22.90 seconds.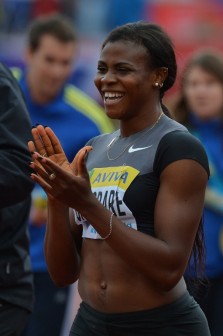 The race which held on the Mount San Antonio College campus east of Los Angeles, also saw Mike Rodgers notching the fastest 100m in the world this year.
Rodgers, the US national champion in 2009, won the Mount SAC 100m in 10.04sec — in an unfavorable wind of 0.4m/sec — ahead of compatriot Ryan Bailey.
Bailey, a member of the US silver medal-winning 4x100m relay team at the London Olympics, clocked 10.18sec.
American English Gardner notched a world-leading women's 100m time with a victory in 11.00sec in a wind of 1.8m/sec.
At the Kansas Relays in Lawrence, Kansas, Michael Tinsley won the 400m hurdles in a world-leading 48.77 seconds, heading a field that included 2005 world champion Bershawn Jackson.
At Baton Rouge, Louisiana, Olympic champion and world record-holder Aries Merritt won the 110m hurdles in 13.37sec — five-hundredths of a second outside the season's best.
At the same meeting on the campus of Louisiana State University, Jamaican Natoya Goule won the 800m in 2:00.76, the fastest in the world this year.
At Gainesville, Florida, Gay clocked 45.95sec in a runner-up finish to Tony McQuay (45.88) in a 400m.
Gatlin, who denied Gay the 100m bronze at the London Games by one-hundredth of a second, won the 100m in Gainesville in 10.06sec.
At the Michael Johnson Classic in Waco, Texas, former world and Olympic 400m champion Jeremy Wariner raced his first 400m of the season, clocking 45.72sec to finish runner-up to American university stand-out David Verburg (45.56).

Load more