Iyanya Mbuk, the first winner of MTN Project Fame, tells BAYO ADETU about his career and other issues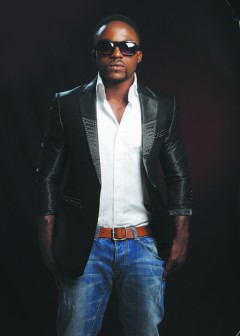 You started your career as an R&B singer but delved into Afro pop after four years. Why the change? 
I decided to change because at some point, I was not being heard. As a musician in Nigeria, you should be able to study your environment and give them what they want if you want to be relevant. I was taking my time doing R&B but only a few people were listening. When you have only a few listening, you can't really make an impact. The international audience won't go crazy about you singing R&B. They would go crazy about what they've never heard before; even about songs they don't understand the meaning.
You popularised the Etighi dance in your hit song, Kukere. Where did the dance originate from?
It's from Calabar, Akwa Ibom State where I come from.
What is the meaning of Kukere?
It means don't worry, don't think.
Why did you feature D'Banj in the remix of the song and what was it like working with him?
I chose D'Banj because he is my role model. D'Banj has proven that Nigerians can rule the world. I travel out and I see the impact that he has all over the world; I'm not just saying London or America but everywhere. D'Banj is a big brand. Working with him has not been as hard as people think it would be. As big as he is, he is very willing to listen to me. Everything that he did on the track, he wanted to have my own opinion, he wanted me to be comfortable with it. Working with him was a blessing and it really showed me a whole lot of things.
Who are the artistes under your record label?
Triple MG Records is owned by two people; me and my manager, Ubi Franklin. For now, we have just  pioneer artistes –Emma Nyra and Bassey Okon.
Why did you decide to start your own record label?
It helps you focus and when you own a record label, you make the decisions. When you attain success, you'd be grateful and appreciate your efforts and when failure comes, you'd also face it like a man. Also, I feel like I've been around for a while and it is only fair that I reap the fruits of my labour. I don't want somebody from nowhere to tell me what to do.
There is a rumour that Ghanaian actress, Yvonne Nelson has accused you of cheating on her. Is that true? 
She didn't mention my name, so I don't know anything about it. I've never told anyone that I was dating her. Since you didn't hear from me, I have nothing to do with anything that is happening.
Both of you have been spotted together several times and you used her name in one of your songs?
I'm cool with Yvonne. Apart from the fact that I mentioned her name in my song, she is a wonderful person. She is one of the nicest, coolest people that I know; the same with Tonto Dikeh. They are two people I respect a lot. I appreciate their hard work and they are doing very well in their field.
What is the relationship between you, Yvonne and Tonto now?
Yvonne is my hommie, we are cool people even till now. Tonto is my padi, we are cool.
Who is the lady in Iyanya's life?
Nobody. It's not like there can't be anybody but my job would not allow it. It's hard to find someone that will be with you and actually take the pain, stand the rain. I feel like anyone I've tried to have a relationship with always says "no, I can't".
Can you date a celebrity?
I can date anybody but the thing about dating celebs is that it would most likely not last. The only way it may last is if they are not successful. But if they are both successful, when people see them together, they would focus on them. That alone has an effect on the relationship because they won't be free.
Looking back at the year 2012, what are you thankful for? 
I'm thankful for 2012, to everybody that helped me, everybody that said no to me because it only made me work harder.

Load more