'The Happiest Day Of  My Life'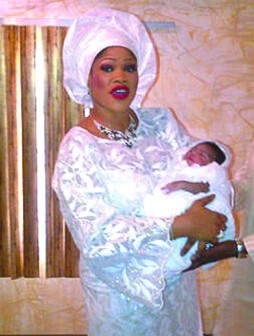 Actress Bisi Ibidapo-Obe has revealed that the day her daughter, Destiny was born was the happiest day in her life.
Despite the controversy that surrounded the birth of the child, Bisi said it gave her joy beyond measure. The alleged father of the baby, Dino Melaye, denied the paternity of the child.
Bisi, popularly known as Omologbalogba, said "the day my daughter, Destiny was born, was and is still the happiest day of my life. I experienced love, greater than anything I had ever felt before, and I don't think it can ever be replaced".
The actress and Melaye met between March and April last year. It was a brief relationship that allegedly resulted in pregnancy, a claim Melaye described as an "Africa Magic's story and an expression of fiction."
In an interview, the actress admitted that though her relationship with Melaye was very brief and they had not planned to have a baby but fate and circumstances proved her wrong.
Explaining how she met the ex-lawmaker, Bisi said "I actually met Dino through Lola Alao and honestly speaking, I was in need of help and Lola Alao promised she would introduce me to someone who could help me. The person turned out to be Dino.
"I visited him in Abuja and  he was actually forthcoming and helpful. I was not the only one involved then but he took particular interest in me. We got to know each other and at a point I was scared because he was all over me. Over time, he showed me he meant well and we became good friends.
"Somehow, one thing led to the other and we started dating. He appeared nice, loving and showed me a lot of affection. He was quite frequent in my Lagos house. I remember when he came to Lagos for the birthday of Asiwaju Bola Tinubu, I went to pick him from the airport to my house.
"We were an item and it was known to a couple of our close friends in the industry.  It was while in Canada with my colleagues, Foluke Daramola and Moji Olaiya, that I  realised that I was pregnant. I could not believe it. It was painful because I could not participate in all the programmes lined up for us in Canada.  I can remember that it was Moji Olaiya that went to buy the pregnancy kit that later confirmed I was pregnant," Bisi noted.
She claimed that Melaye was initially happy when she first shared the news with him, and actually promised to marry her, only for him to change his mind later, suggesting that the pregnancy should be aborted.
–Bayo Adetu
Glo X-Factor Audition Moves To Ghana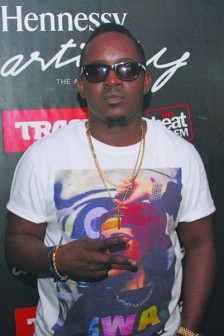 The three X Factor judges unveiled in Lagos last week have expressed excitement at being part of the history Glo is making in Africa with the singing talent reality TV show.
The judges, Nigeria's musical legend, Onyeka Onwenu, rapper MI and Reggie Rockstone of Ghana, thanked Globacom for bringing them aboard the show and for offering a rare opportunity for African youths to explore their talents.
Onyeka said: "I am greatly excited to be part of this great show and I will definitely have fun while the competition lasts. I promise to be fair in my judgement, add humour to the game, be a good ambassador of Glo and display the greatest form of integrity which Globacom is known for."
M.I commended Glo for making history as the first company to bring the show to Africa. "I am very happy about this. It is going to be the biggest ever reality show in Africa and that's the truth. It's more than just about Nigeria or West Africa. It's about the whole of Africa. I'd be glad if another great artiste comes out from this pack to upstage people like us but such a person has a lot of work to do because he needs the X Factor to get to the top of the pack."
Also speaking on his selection, Rockstone said he was excited because X Factor is designed to find new talents. "I am optimistic because there are a lot of talents here in West Africa. I have seen them and I am delighted I am one of the judges. The $150,000 prize money for me is very enticing and the opportunity to have new talents stimulated my interest in the show. I can only be scared about new comers, and the part I love is that I'll double as judge and coach. That is awesome," he declared.
Beat FM's Tolu Oniru popularly called Toolz, who was unveiled as the presenter of X Factor, was equally full of excitement: "It's the biggest ever reality show that Nigeria and Africa have ever seen. N24 million isn't a child's play; no other musical show has beaten that. And you know this year marks the 10th anniversary of Globacom and this programme, I believe, is part of the company's modest way of thanking its numerous subscribers".
Meanwhile, after hugely successful outings in Port Harcourt and Abuja, Nigeria, the auditions for the show will this weekend move to Ghana.
A statement by Globacom said the Ghana auditions would be held in Kumasi on Saturday, May 4, and Sunday, May 5, while the Accra audition would be held the following weekend, May 11 and 12.
After the Ghana auditions, the judges will return to Nigeria for the Lagos auditions scheduled for Saturday, May 25, and Sunday, May 26.
–Daniels Ekugo & Damilare Okunola
Art21 Berths In Nigeria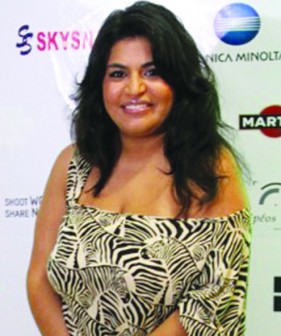 Art21, a modern art museum, has arrived in Lagos, southwest Nigeria. Series of activities focusing on Nigerian contemporary art are part of Art21's drive to extend its reach to Africa.
Set to radically change the supposedly 'lack of impact' that has characterized Nigerian and African arts, the initiative is set to promote and position the contemporary African art globally.
Art21, the first of its kind in Lagos, officially opened to the public recently on the ground floor of Eko Hotels and Suites, Victoria Island, Lagos.
Caline Chagouri, the brain behind the initiative said "I am thrilled to be able to bring such a platform to a wonderful city that I have always treasured, and even more so to the incredibly talented people that are born in this great country. My art consulting firm focuses on creating artistic spaces, bringing artistes together, being part of the movement to create a real art market on the continent, and giving the world a taste of the Lagos I know."
The first exhibition of Art21 is the work of Olu Amoda, a designer and teacher at Yaba College of Technology.
Olu's work exemplifies what can be made out of 'supposedly trash' as he welds and assembles things such as discard nails and old locks into intricate sculptures. The main reason for choosing him as the first exhibitor is his creative ability at turning disused objects into master pieces of art.
"Nails are used in my work as metaphor. They have survived generations and remains one of the most ideal and enduring pieces of engineering. Small but lethal, a nail is able to defend itself, but yields to the will of the carpenter."
"The intricate thing about my work is that I am interested in the former lives of the objects I use and in the new meanings they take on when they are brought together. What we call little things are merely the causes of great things: they are the beginning, the embryo and the point of departure, which generally speaking decides the whole future of an existence," he said.
The idea of the space was birthed by Caline Chagoury, a photographer and art collector, who said that exactly a year ago, she started looking around for a space that could inspire artistes to do greater things.
"Art 21 (Art 21st Century) is conceived to provide a platform for renowned Nigerian and African artists to showcase their talent on a platform which makes no apology for radical, bold and experimentation with the aim of commanding audience from far and wide. It will provide a platform for renowned Nigerian and African artists to showcase their talent," she enthused.
Art collectors like Omooba Yemisi Shyllon, Director of the Centre for Contemporary Art, CCA Lagos, Bisi Silva, founder of Nike Art Centre, Tam Fiofori and Ndidi Dike graced the launch of Art21.
–Daniels Ekugo
KOGA Discovers New Talent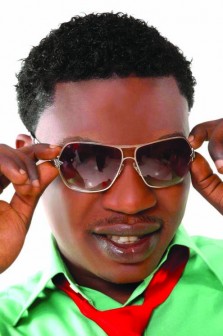 Ten winners have emerged from Koga Entertainment's talent Open House Talent Hunt, a competition aimed at discovering raw music acts.
The two-day event was aimed at discovering new singers and songwriters in many genres of music including rap, soul, R&B, jazz, reggae, fuji, gospel and soul.
Out of 30 artistes that participated in the show, 10 were selected for the final round, and they have struck a recording deal with producers who were also judges in the competition.
The remaining 20 participants were compensated with a recording session each at Koga studios. The producers that will work with the 10 winners are OJB Jezreel, Mr Daz, Puffy Tee, Don Adah, Black Jersey, Kraftmatics, Phat E, P. Edwards, Jokaynie and K-Solo.
Nomoreloss, the anchor of the event, said "Koga Entertainment hopes to bring these talents closer to their dreams with the show. We will produce a song for the top 10 finalists under these seasoned producers and sign two exceptional ones among them."
–Bayo Adetu
Omo Olope Unveils LP
Female gospel music act, Princess Adejoke Bankole also known as Omo Olope has unveiled her latest album, My Comfort.
The album was recorded at Femopal studio. My Comfort will be distributed and marketed from the stable of Thunderbolt Music Company.
Tunde Oshelu, the CEO of the label enthused that the effort has the potentials of being a commercial success, considering its composition, percussions and arrangement.
At the album launch held at Tant One Event Centre, no fewer than ten gospel music stars performed. They include Mega 99, Tunde Samson, Eniola Lias Abiodun (Ayangbajumo), Segun Imisi, Dare Melody and Kayefi.
–Kayode Aponmade
'Is This Love' Debuts
Wale Adenuga Productions has hit the airwaves with Is This Love, another season of its Superstory series.
Is This Love tells the story of Prince Abioye and Ajoke as they struggle for survival and have their love for each other tested like never before. It is an epic African love story that aims to reveal the dangerous sides of human emotions.
It stars actors like Jide Kosoko, Bukky Ajayi, Yemi Solade, Joke Muyiwa, Dele Odule, Yemi Remi, Adeniyi Johnson, Marygold Adams, as well as some rising stars from the renowned PEFTI Film Institute.
—Bayo Adetu

Load more