Nigerian President Goodluck Jonathan on Wednesday hit out at gunmen he called "armed terrorists" who launched attacks on military barracks, a prison and police stations in Bama town in which 55 people were killed.
A statement released by his office in Abuja said Jonathan warned that his government's consideration of dialogue with insurgents should not be seen as a sign of weakness.
"The president warns that the federal government's consideration of dialogue as an option for the elimination of some current threats to security should not be seen as a weakening of its resolve and determination to use all the forces at its disposal to crush all brazen affronts to the powers and sovereignty of the Nigerian nation."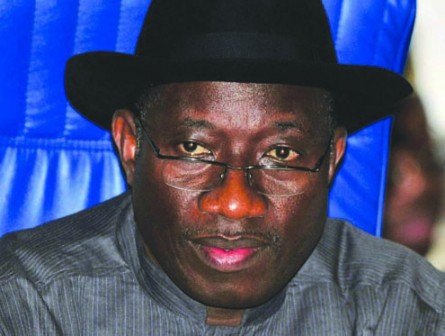 Jonathan had last month set up a panel to seek an amnesty deal with Islamist group Boko Haram.
The gunmen on Tuesday launched coordinated attacks on the barracks, a prison and police stations in the northeastern town of Bama, killing 55 people and springing 105 inmates, the army said.
Sagir Musa, the military spokesman in nearby Maiduguri, the Islamist Boko Haram sect's cradle and stronghold, said 14 prison wardens including a senior officer, two soldiers, 22 policemen, four civilians and 13 Boko Haram gunmen were killed in the attacks in Bama.
"Jonathan believes that the continuation of such callous and wanton attacks on innocent Nigerians, government facilities and security formations flies in the face of ongoing efforts to establish a workable framework for dialogue and the peaceful resolution of security challenges in Northern Nigeria," the statement signed by Reuben Abati, special adviser on media and publicity, said.
Jonathan urged the armed forces and police not to be "disheartened or daunted" by the loss of their colleagues, but to remain focused and undeterred in discharging their responsibility for the security of lives and property.
The attacks came after 17 people were killed and many houses burnt following a series of attacks by the extremist group in the town on April 25.

Load more