Many Nigerian ex-footballers, who have meritoriously served the nation during their active days, are now living from hands to mouth.
Some of these former footballers are living in abject poverty despite giving their best for the country. Nigeria is one of the countries which quickly forget their heroes after they retire. Samuel Okwaraji, of blessed memory, died on 12 August, 1989 on the pitch of the National Stadium, Surulere during the 1990 FIFA World Cup qualifier against Angola. It is so sad that Okwaraji had been forgotten and his family has been in pains since then. Nigeria Football Federation, NFF, has not made any attempt to see how the family is coping after the death of  Okwaraji, who died while serving his fatherland.
The same thing goes to Rashidi Yekini, who died last year. Some people were saying that the Ibadan-born player would not have died if he had received good medical care. Some were of the opinion that Yekini died because nobody looked for him when he was ill.
Commenting on Yekini's death last year, former Super Eagles captain, Nwankwo Kanu tasked Nigerians to strive to honour their heroes when they are still alive instead of crying 'out their eyes' and making eulogies at their death.
"Those who gave everything in the service of their country must be accorded the desired attention at all times. Yekini suffered and died like an orphan. Today, everybody is lamenting over his death. Nobody cared for him while he was alive and suffering," said Kanu, who believes that ex footballers need to be taken care of during their active days or when they are retired.
Sunny Ewodage, who played for the defunct Mandalas Football Club of Lagos in the early 60s explained that nobody cares about the welfare of ex footballers in this country. He said many former internationals have died due to starvation and neglect.
He disclosed  that if not for the Lagos State Governor, Babatunde Raji Fashola, who helped him three years ago, he would have died.
"I served this country as a player and coach. I played for the defunct Mandals FC in those days. I coached VIP United, Gombe United and Jasper United before I retired. After I left the game, I was forgotten, but as God would not forget me, Governor Fashola came to my rescue.
" I almost died then because  things were so hard for me to the extent that my wife abandoned me and ran away with my two children. But I thank God today that Governor Fashola who I trained when he was at Igbobi College offered me a job," Ewodage said.
Former Shooting Stars and Green Eagles' Captain, Segun Odegbami, while delivering a lecture at the 3rd Best Ogedengbe Memorial Lecture held last year, said in his 6-page paper that "when footballers complete their assignment as players and retired from the game, they enter another phase of their journey completely different from the first.
"There is little or no provision in the system to adequately accommodate them, so they end up in jail of neglect, sickness, joblessness, depression, and premature death. The system not only forgets them, but forgets the family they leave behind."
The ex-winger, however, described the life of a footballer after football, as a condemnation to a life of regret, painful old age and abject penury, affirming that, the picture he painted is actually the reality.
While reflecting on the ugly side of the footballers that are still living, Odegbami noted that their tales is like of the living dead.
"Many of us, heroes of our various generations in the chronology of football, are still alive but barely living through a journey that has turned from good to bad and now to the ugly," he said.
He used himself as an example to better illustrate his points, saying "let me tell you about the physical damages you cannot see under these fine clothes. My thigh muscles, once taunt and toned like that of a racing horse, is now thin and drooping with wrinkles like the withered breast of an old woman".
"The muscle cannot even now support my body weight properly anymore. So I walk wracking with pains and my limp. For over 10 years I have been having palpitations, my cholesterol level was high, I have been on a daily dose of pills I must take for the rest of my life in order not to go blind.
"There is pain in my waistline. There is more I suffer from. Yet I count myself as one of the lucky among our generation. Have you seen Adokie Amaisimaka lately? Or Emmanuel Okala, Kadiri Ikhana, Joe Erico, George Omokaro, Mike Okotie, Peter Fregene or Demola Adesina. All these great football heroes are alive, but every single of them has become physically challenged," he said.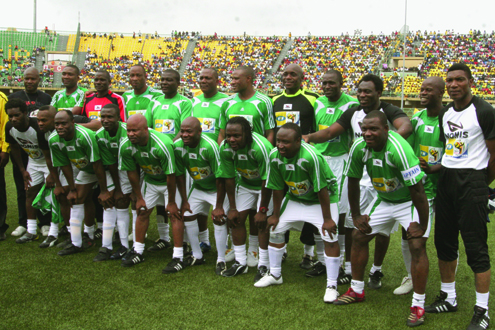 In his own comment, Friday Expo, a member of Green Eagles told P.M.NEWS Sports recently in Lagos that ex footballers are being neglected in this country. He said many former players who have served this country in the past died as a result of poverty.
He also thanked Governor Fashola for giving job to some ex footballers in Lagos. He said Fashola deserves to be commended because he has rehabilitated so many former players who have lost hope in the leadership of the country.
"I am very grateful to Governor Fashola because I met him in 2009 at the All Stars Football Club. I told him what I was passing through then. I'm happy today that he gave me job as the Stadium Manager of Elegbata Playground, Apogbon. I want to say that many of my colleagues that are based in Lagos have benefited in one way or the other from Fashola's government and we will ever be grateful to him. May God bless his family and government," he said.
Some of the ex footballers advised governments at various levels to appoint all the ex internationals as coaches for schools in the primary to tertiary institutions instead of giving jobs to only people who have certificate in Physical Health Education or Sports Management.
Some were of the opinion that government should give a stipend to ex footballers who are idle or suffering so as to take care of themselves.
Reacting to the poor welfare of the ex footballers in the country, Association of Professional Footballers of Nigeria, APFON, said the body is doing everything in its power to alleviate the suffering of these former players.
Secretary General of the association, Austin Popo explained that lack of funds is one of the major factors militating against the progress of the association. Popo said that it is unfortunate that none of the Nigerian players who are plying their trade abroad ready to help the association in terms of regular funding .
"Apart from Obinna Nsofor, who gave us N2 million two years ago, no single professional player is ready to assist us. We are aware of the challenges our ex footballers are facing in this country, but we cannot do much because we are cash strapped at the moment," he said.
Popo disclosed that arrangements have been concluded to organise player's union match between All Stars Edo and Delta State on 12 June at the Samuel Ogbemudiah Stadium, Benin. The one day event will be an avenue to raise funds and at the same time address the welfare of Nigerian players both home and abroad.
The association will also stage another player's union match in Yenegoa, Bayelsa State where All Stars of Delta and All Stars of Bayelsa will play each other.
Popo said the associations has started embarking on Players' Advocacy Drive Programme to educate the players and club owners the benefit being a member of the APFON. Popo said they have been in nine states especially where the premier league clubs and professional club are located.
He said the association is planning to organise Club's Captain Conference on 20 June in Oshogbo, Osun State where issues affecting Nigerian footballers (both former and current) will be collectively tackled.
Popo  noted that Nigeria Football Federation NFF needs to assist the association from the funds it usually receives from FIFA and CAF to take care of the union's challenges.
"Like I said before, we are yet to receive any grant from individuals, organisations or governments and it is sad that we don't give attention to our ex footballers in this country. APFON will continue to strive to meet some challenges of the players," he said.
—Sunday Akintoye

Load more