CLEVELAND, Ohio(AFP) – A baby delivered on Christmas Day by a captive under threat of death, multiple miscarriages, repeated rapes and savage beatings — all took place over a decade within the walls of an American home.
Just days after three women and a six-year-old girl were rescued from Ariel Castro's house on Seymour Avenue in working class west Cleveland, horrifying allegations are emerging about the 10 years they spent as his prisoners.
On Monday, he finally let his guard down, forgetting to padlock a heavy door before leaving to eat at a McDonald's fast food restaurant, according to an initial police report leaked to several local media outlets.
Police have confirmed that the leak appears to be genuine, and Cleveland's Mayor Frank Jackson held a news conference Thursday to urge officers to protect the confidentiality of the investigation and to protect the women's privacy.
Amanda Berry, who was kidnapped in 2003 on the day before her 17th birthday, was able to take advantage of Castro's slip but not before overcoming an agonizing moment of doubt — was her captor "testing" her? Was he waiting to pounce?
Thankfully, for her six-year-old daughter Jocelyn and two fellow captives, she decided to risk it. She pulled back the heavy door only to find an exterior metal screen door still locked. She screamed for help.
A neighbor heard her desperate cries and rushed to her aid. Once she and Jocelyn were free, she called the police. Officers raced to the scene, broke down the door and started searching the house.
As they neared the top of the steps on the second floor, Michelle Knight — who was kidnapped in 2002 at the age of 20 — "ran and threw herself into (Officer) Espada's arms," the police report said, according to WKYC news.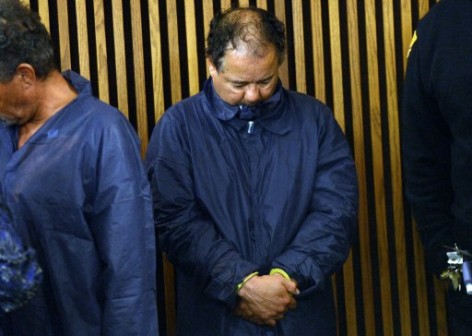 She began to sob, saying: "You saved me, you saved me."
The officers asked her if there was anyone else upstairs, and that's when Gina DeJesus, kidnapped in 2004 at the age of 14, came out of the bedroom.
When the women began to recount their story to investigators, the full torment of their captivity became clear.
Knight told police that she had fallen pregnant "at least five times" during nearly 12 years of captivity, CBS news reported, citing the police report.
"Ariel would make her abort the baby," the police report read. "He starved her for at least two weeks and then repeatedly punched her in stomach until she miscarried."
Castro brought in a plastic kiddie pool and forced Berry to give birth in it in order to contain the inevitable mess, the women told police. He also forced Knight to assist and told her "if baby died… he'd kill her."
At one point on that terrifying December 25, 2006, the newborn girl stopped breathing and Knight "breathed for her," giving mouth-to-mouth resuscitation.
Berry told police that Castro would sometimes take her daughter with him when he left the house, but made sure she didn't know Knight or DeJesus's real names to avoid raising any suspicions.
The women said they were chained in the basement during their early years of captivity, but eventually were allowed to live unchained upstairs behind locked doors.
They were only allowed outside of the house on two brief occasions, when Castro shuffled them to the garage wearing wigs as disguises.
But police are still unsure how it was that none of the people who would visit the unassuming house at 2207 Seymour — including his family — realized that anything was amiss.
Nor did anyone who visited or lived near the non-descript but dingy home appear to have any clue that the three women and the child were trapped inside.
"Ariel kept everybody at a distance," deputy police chief Ed Tomba told reporters Wednesday.
"The control that he may have had over those girls, we don't know that yet. I think that's going to be — take us a long time to figure that out."

Load more