Nnamdi Felix / Abuja
Nigeria's Federal Government and state governors on Thursday, at the resumed hearing of the suit filed by the governors against the illegal diversion of funds for the Sovereign Wealth Fund at the Supreme Court, disagreed over the success of the out of court settlement talks.
While the governor berated the Federal Government for its insincerity about the out of court settlement, the Federal Government claimed that progress is being made and that it would be wrong for the governors to claim that the progress made was not appreciable by their assessment.
From the proceedings, it is clear that talks have collapsed for the umpteenth time as the governors told the apex court of their readiness to argue the matter and allow the court resolve the dispute on merits.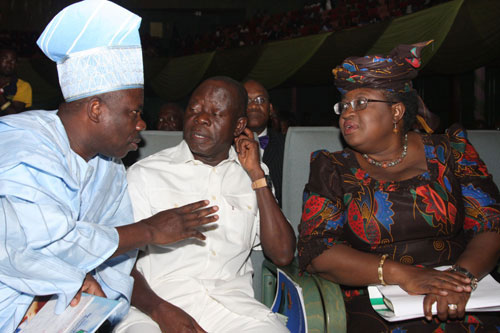 The Federal Government lawyer, Chief Wole Olanipekun, a senior advocate of Nigeria, however told the court that if given more time, the matter could be resolved amicably, but added that if the governors want the matter to proceed to full trial, the Federal Government too is ready.
He stated that the Federal Government had filed an application seeking to dismiss the entire case and that they are not afraid of engaging the state governors law for law, facts for facts.
Olanipekun had earlier told the court that the matter in contention was political and that the court should give the parties more time to explore further solutions.
In his response, the governors lawyer, Chief Adegboyega Awomolo, also a senior advocate of Nigeria, insisted that the matter before the court was not political but a constitutional one.
The Supreme Court however agreed with Chief Olanipekun for more time to be granted parties to talk further and urged them to settle the matter out of court.
Justice Walter Onnonoghen who presided over the matter faulted Awomolo's position noting that there was nothing constitutional about money sharing but negotiation, and urged them to further explore further opportunities to resolve the matter amicably.
Consequently, the matter was adjourned to 2nd December for report of settlement or hearing in the case if they could not settle.
The states had filed different suits seeking interpretation of section 162 of the 1999 constitution as it affected the diversion of funds which ordinarily ought to accrue to the Federation Account for sharing among the three tiers of government.
The cases were adjourned till Thursday for the purpose of either consolidating them or agreeing on which of them should be used as a test case which decision will bind all parties in other similar cases.

Load more