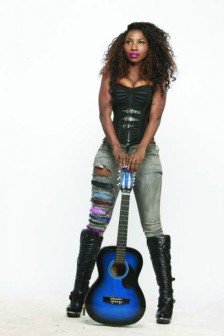 Focused, creative, unassuming, hardworking, multi-talented, athletic and very energetic are some of the attributes that best describe the personality of Donna Adja a.k.a Donnadiva. Her incursion into the Nigerian music industry as an artiste worthy of note came with the launch of her first single and video, Shut Up.
The high budget video, directed by Clarence Peters, featured a fierce-looking, tomboyish and radical Donnadiva wriggling and gyrating rhythmically to the upbeat tempo of the song, which reminds one of the late American artistes Left Eye of the TLC fame and Ciara.
The single and its accompanying video did not only bring Donnadiva to public consciousness, it also earned her a nomination for the best Afro Hip-Hop video at Nigeria's premier music video awards — the Nigeria Music Video Awards, NMVA 2012.
Unknown to many, Donna is also a music producer, actress, model and aspiring fashion designer. She decided to embrace a full time music career in 2006 as the leader of an in-house band at the Lagos Sheraton Hotel, Ikeja.
After five years of consistent practice, she decided to quit the job in 2011 to commence a solo career as a recording and performing artiste. An indigene of Abraka, Ethiope East Local Government, Delta State, she caught the music bug as a teenager and was already a chorister in her church at age 15.
Her blend of music comprises reggae, rap, pop and other African flavoured rhythms. The love for music has taken this simple Urhobo girl from a family of 10 to several countries like UK, Australia, Dubai and Ghana among others.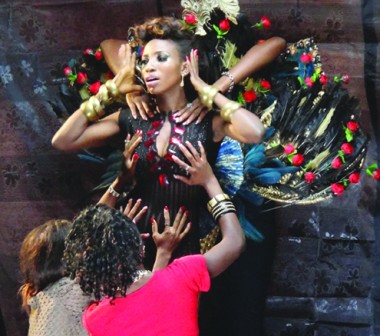 After her brief sojourn in the UK, Donnadiva returned to Nigeria to face music squarely and has since set up her own recording outfit, Daz Entertainment. She teamed up with Gold Adja, her younger brother and CEO of Dream Muzik. The union produced a brand new single, Gaga. The cut is a follow up to her Shut Up.
The song, music critics said, has the potentials of keeping club goers and party mongers on their toes, and can also compete for a fair position on the music chart. "It has all the accomplishments of a promising hit," Idowu Fashola, a music critic and lyricist said.
The video for the single, P.M.NEWS Entertainment Cafe gathered, is almost ready, and is being directed and produced by new kid on the bloc, Matt Max. If there is one more thing that is also working in favour of Donnadiva, it is her daring sexual appeal. She compliments this with creative make up and fashion innovations in the Gaga video. Her choice of natural scenery as location further gives an awesome ambience and exciting viewing pleasure.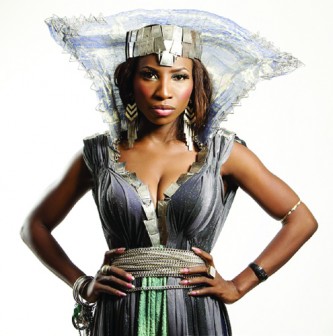 Although Donnadiva said she is not in a hurry to drop a debut album yet, she is not relenting in her effort to feed industry watchers with good hit singles in a manner that will keep them asking more.
Welcome to the world of Donnadiva, a diva in the making.
According to the musician, "Shut Up is basically about people who were running me down. I wanted to tell them to shut up. It is not as if I was fighting anybody, but I wanted to tell my fans that if you appreciate yourself, people will start appreciating you, and if you love yourself, people will start loving you.
"When you are working on something a lot of people will come out and say different things about you. Some will say it is a difficult industry and that you can't make it, but if you believe in yourself you will progress in that field.
"If you have faith in what you do, you will succeed," she added.
"For the song, Gaga, it is about music and its ability to take you high. I just wanted to do something different, unique and crazy."
Donnadiva said  the idea is to build a successful brand as a musician and then use it as a platform to launch her clothing line. "By the time I am accepted as an artiste, you will see how the fashion aspect will do. For now, I am just focusing on designing things for myself. The costumes for the Shut Up video were made by me and those for the Gaga video which we are promoting presently were also done by me," she disclosed.
She said she came to Lagos to act in the movie industry, but somehow it was not working so she started doing live bands, studio backups.
"From there people started telling me I was too good to be a back up person and I decided to do my own thing. The movie industry was so challenging. I got roles but not the kind of roles I wanted and there was some kind of politics in the industry and I just wasn't ready for that," Donnadiva said.
—Edwin Usoboh

Load more