Ace comic actor, Hafiz Oyetoro spoke with GBENRO ADESINA about the challenges he faced before his breakthrough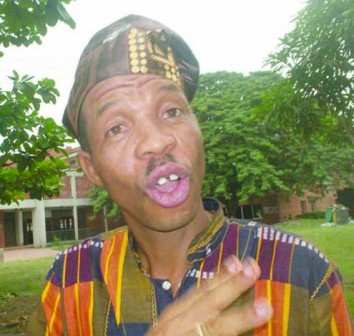 How far have you gone with your Ph.D programme at the University of Ibadan (UI)?
I am still on it. This is my second year. I am currently doing some field work. I hope to round off the field work by the end of this year. Afterwards, I will start writing.
How are you combining it with your tight schedule?
Everybody knows what he wants in life. You have to create time to do all the things you want to do and that is why everyone must be good in managing his or her time. Definitely, scale of preference will come in. No one has time to combine many necessary and important things but one has to create time to achieve one's dream.
You did an advert for Etisalat and all of a sudden, you switched over to MTN. Why did you switch from Etisalat to MTN?
I will not want to say anything about that for now. Please, do not let us go there. It is no go area now.
You have participated in many adverts and television programmes. You were involved in 'Back To Root' on NTA; you did an advert for NNPC, Etisalat and now MTN. How do you feel about your rising profile?
Back to root on NTA is a national programme which was done about three or four years ago. I was not the only person that did it. I was one of the least persons in that programme because there were many people that participated in it. We have superstars, the super super-stars. I was one of the little guys there. It is just a television programme which has nothing to do with whether I am a celebrity or not. I was still a young person as at that time.
Contrary to your perception of yourself, people see you as a super super star.
My brother, I still have a long way to go. You know I am a lecturer, a simple civil servant who is trying to make it in the entertainment industry. I only practice what I teach as a lecturer in Theatre Arts at Adeniran Ogunsanya College of Education. I practice a little bit of it outside in order to enhance my teaching methodology. I still have a long way to go. I am still pursuing a Ph.D programme. I am not as popular as you are portraying me.
But this day, everyone wants you to feature in their productions, especially adverts. So, don't you think you are qualified to be in the super superstar class?
As far as that is concerned, to God be the glory. It is the grace of God. It is not me but the grace of God. There are still other people better than I who have not received that grace and I pray for such people too. As you are talking to me, you are a superstar. Once you are able to do things in your own field very well, you are a superstar. Mr. Adesina, in your own right as a reporter and writer, you are a superstar too. It is just in Nigeria that we give some special emphasis to some people. Once you are able to do what you are doing very well and you are known for it, then you are a superstar. But for me, I am still struggling and striving.
How are you coping with your rising status?
I am an average Nigerian, a simple average lecturer who goes about in my small car and it doesn't take so much from me, unlike the superstar who will hide and hide. I go where I go now without policemen escorting me. Like I told you, I am still moving up. Maybe when I become the so-called superstar, I will need all those things. But to the glory of God, I am growing; things are working well for me. I am teaching well. I am super in what I teach. I thank God for that.
Do you intend crossing to the university as a lecturer later?
For now, I am satisfied where I am. The essence of getting more knowledge is to be able to add more value to your immediate environment. If Adeniran Ogunsanya College of Education, where I teach now, gives me the opportunity to go and learn more, when I come back, I think it is my responsibility to first and foremost add more value to the college that has done so much for me. I will like to come back and add more value to the community that has brought me up.
But what about progress, being a professor which you can only attain in the university?
When I am ready to do that, I will go further; maybe go to a university to avail myself of the opportunities there but for now, my immediate target is to get a Ph.D, go back to the college, and add more value to the college. I don't want to grow too old before I retire. I want to retire when I am still at a productive stage. If by next year or two years, I have my PhD and I practice for like three years, I can retire and become an educational/production consultant. I really want to be productive to myself and the society at large.
Are you going to continue combining acting and lecturing?
Acting and teaching are almost the same thing. Teaching is a formal style of acting, acting is an informal style of teaching. They are related. When you are teaching you are acting, you are performing, imparting knowledge in a formal manner. It doesn't really take so much from me because that is what I learn and that is what I have been doing over a long period.
How many awards have you received?
About 25 for now, about four of them are international awards. There are many other nominations that I can't remember now. You can now understand why I said that I am just coming up, going by the few awards that I have received compared to other actors and actresses who have received about 100 or more.
What went into that good performance in the MTN advert?
I don't want to say anything about MTN.
I mean you acting as a musician?
I am just an actor. An actor will mimic professor, doctor; an average actor knows something about almost everything. As far as I am concerned, a performance is a performance and I have been trained. I am a trained actor.
During our last chat, you talked so much about how poverty dealt with you, how is life now?
My brother, to the Glory of God, level don they change. Let me put it like that. I believe that in the nearest future, level will finally change. But for now, level don dey change. I have murdered poverty and God in his infinite mercy murdered poverty for me.
What is the definition of level don dey change?
Comfort. Like the so-called superstar that we are talking about. It takes so long to be satisfied with what you want in life. Even the Dangotes of this world are still looking for more level to change. Unlike before, I was not married, I did not have children, I really struggled as a student but today, I am married, I have a job as a lecturer, I have about three degrees and I am currently pursuing a Ph.D programme. That means that level don dey change. Maybe when I have my Ph.D and become a professor, level don change be that.
What was your turning point?
Haa, let me tell you, it is a combination of all the hard work, to the glory of God and the power of the Almighty God who has given me the grace. God's grace is the turning point. What I am doing is acceptable. For instance, Gbenga Windapo, my friend and my HOD wrote and created House Apart where the character was Saka and Sule. That was when the issue of Saka was created. That was about 2005 or so. It came out and people liked it. But we started with Area C where I played Sergeant Dudu. I have done many live performances in one man show of about two-hour packages. This I did for many years across Nigeria before I finally came to Lagos and got involved in television shows. I did both Yoruba and English shows. These performances were very challenging. To the glory of God, God has given me the grace to play my part in a way that people love it. It is just the grace of God that you do something and people will like it. It is that grace of God that dropped into my life and made people to notice what I have been doing all this while.
How many years have you been acting?
About 25 years.
What is your advice to the upcoming actors and actresses on how to be successful in the entertainment industry?
First, identify your potential. Don't just go into acting because other people are doing it. If you don't have the talent, forget it. Once you have been able to identify your talent, go for training. In the process of training, save it very well, endure it, work very hard and take God as the pillar at every step. Talent, training and God are equal to success.
Do you have time for your family?
I don't joke with my family. Yes, it is true that sometimes, I travel and spend like three days. At times, I travel out of the country for production or conference. Sometimes, I spend like three weeks. But since I got married, I have been very close to my family. I appreciate them because they are supporting me and I have a woman who actually handles my house. She has actually turned my house into a home. I don't joke with my family.
Any message for your fans?
Thank you very much, I love you all, I thank you for your support and the privileges you are giving me. I thank you for allowing the grace of God radiating through me to affect you. I pray that God will grant you everything that you desire in life.

Load more