By Bayo Onanuga
President Goodluck Jonathan, ignoring a last minute dissuasion by Nigerian Governors Forum, has slammed a state of emergency on three Nigerian states, plagued by a deadly Boko Haram insurgency, that has advertised Nigeria to the world as a state of anarchy, a nation rent by war, where human life is cheap, where the state has lost total control of the society.
It was a measure President Jonathan had shied away from since December 2011 when he imposed a partial emergency on some selected local councils in Yobe, Plateau, Borno, and Niger states. The half-hearted measure, of course, failed to curb the insurgency, as envisaged.
Instead, the insurgency grew in monstrous proportions, with repeated ferocious and audacious attacks on towns and villages in Adamawa, Yobe and Borno. Adamawa especially was turned into a playing-killing field, where little-safeguarded local councils were invaded, policemen, prison officials, innocent people, Christian worshippers killed and banks looted. Nigeria really must have been made of steely stuff to have absorbed all these rapes and still remain standing as a nation.
Since the partial emergency of 2011, we have also witnessed bloodshed in Bama and Baga, Gamboru Ngala and other places, all Boko Haram provoked. Let's not forget the wicked bombing of luxury buses in Kano, where hundreds of people died a few weeks ago.
It is not only Jonathan that felt a sense of indignation about this bloodletting, this rape on Nigeria's statehood, the indignation and seeming helplessness is shared by the entire Nigerians.
But my problem with the full emergency now declared is that it also fell short about what needs to be done to save Nigeria from extinction.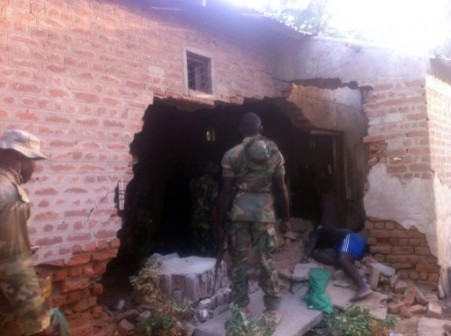 My first problem with the measure taken is that it leaves out Bayelsa state, the president's home state, where recently armed men, like the Boko Haram insurgents killed 12 policemen in cold blood, where piracy, massive oil theft, the destruction of oil facilities, kidnapping of Nigerians and foreigners threaten the oil industry, the economic life-wire of the nation. From whatever angle we look at it, the insurgency in Bayelsa even inflicts greater damage on the Nigerian nation, than Boko Haram's violence. The militants and pirates of Bayelsa threaten the economic survival of Nigeria itself and by that the survival of the nation itself. I will advise the National Assembly that in giving approval for the emergency in Adamawa, Yobe, Borno states, Bayelsa should be added to the list. Indeed, it should top the list.
Secondly, President Jonathan and his security chiefs appear to have under-estimated or glossed over the insecurity in other parts of the nation, judging by the Boko-Haram thrust of the broadcast. Mr. President sir, the entire Nigeria is also in a state of anomie, requiring urgent and serious actions.
Let's take Plateau or Benue, or even Kaduna, where nomadic Fulani herdsmen are in constant violent clashes with native farmers over the rights of their cattle to graze on farmlands and thus destroy economic crops. It is only in anomic Nigeria, that nomadic cattle breeders are allowed to take their herds across states and cause serious and bloody conflict with their unwilling hosts. Yes, the cows must eat. Must they trek hundreds of kilometers to be fed? Why can't government provide grazing grounds for cattle in states where the Fulani herdsmen are normally resident? Must we allow nomads, an antiquated idea in a modern age, into another century?
The recent attack on policemen in Nasarawa state was said to have taken its roots from the old practice of the Fulani cattle rampaging farms, with no one compensating the owners of the farms, with the Fulani herdsman ready to kill in multiples, anyone that kills his cattle. The Ombatse members were said to have organized and armed themselves to confront the Fulani threat, leading to the tragedy where 43 policemen were killed as they made the attempt to confront the members of Ombatse.
It is not only the Fulani herdsmen issue that President Jonathan skirted. He also was silent on the unending religious crisis, Christians and Muslims fighting one another in northern Nigeria, a version of which we witnessed in Taraba recently. He was similarly silent on the rising cases of kidnapping and armed banditry in virtually all parts of Nigeria, such that the average Nigerian believes that he is no longer safe in his country.
President Jonathan and his security chiefs need to cast a comprehensive analysis on the security issues in the entire country. Isolating a few states and focusing on a single problem may just not bring the peace we all crave to have.
The truth is that Nigeria is unraveling right before our eyes. The state is collapsing. Lies, pretences of the past, deep seated aversions for one another, injustice, mis-governance, are crystallizing as humongous problems, tearing apart the fabric of the nation.
For those whose business is to govern Nigeria, it can no longer be business as usual. For those whose job is to protect the citizens of this country from harm, security has to be thoroughly over-hauled. New laws, new ethics have to be made to govern our relations and political order. The idea of Nigeria as a secular nation must be re-established and practiced. Religion must fade out of public space. Nigeria is in dire need of a real transformation agenda. Not half measures, not selective measures, but a total overhaul. The paradigm of doing things in our country must shift. And the time is now.
.Bayo Onanuga is the editor-in-chief of TheNEWS and P.M.NEWS


Load more