Nigeria's military said Thursday that it was ready to launch air strikes against Boko Haram Islamists as several thousand troops moved to the remote northeast to retake territory seized by the insurgents.
"The entire Nigerian military is involved in this operation, including the air force," defence spokesman Brigadier General Chris Olukolade told AFP.
"Definitely, air strikes will be used when necessary," he said.
A force of "several thousand" soldiers along with fighter jets and helicopter gunships have been deployed for the offensive in Borno, Yobe and Adamawa state, he added.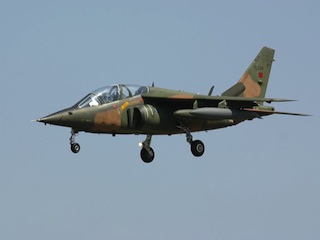 The operation follows President Goodluck Jonathan's decision to a impose a state of emergency in all three areas as he admitted that Boko Haram had "taken over" territory in the northeast and declared war against the government.
The Islamists, who have said they are fighting to create an Islamic state in Nigeria's mainly Muslim north, have become emboldened and better armed in recent months.
The military spokesman said operations had begun in all three states, but declined to provide specifics.
The operation is the largest against Boko Haram since 2009, when soldiers flooded Borno's capital Maiduguri, killing more than 800 people and forcing the insurgents underground for a year.
A military source who requested anonymity told AFP that Nigerian forces "raided some terrorist camps in the Sambisa Game Reserve," in northern Borno, early on Wednesday.
Zangina Kyarimi, who lives in the remote town of Marti in northern Borno towards the border with Chad, said that "large military teams" arrived late Wednesday.
"I saw dozens of military vans and trucks accompanied by tanks," he said by phone from the town, which is considered a Boko Haram stronghold.
"We are afraid of what might happen in the coming days. We are thinking of leaving," he said.
In Adamawa, a dusk-to-dawn curfew has been imposed, with all residents forced to stay indoors after sundown, the area's military spokesman Lieutenant Ja-afar Mohammed Nuhu told AFP.
In Yobe state in the town of Gashua, scene of a deadly Boko Haram attack on April 26, a convoy of military personnel rolled through heading north to the Niger border, resident Musa Saminu said.
"Some of them went to the banks and asked them to close down as a precaution," he told AFP.
While the military has vowed that the operation will "rid the nation's border territories of terrorist bases," there are doubts as to whether the security forces have the capacity to end the insurgency.
"The military is already overstretched," former US ambassador to Nigeria John Campbell said Wednesday in an article for the Council on Foreign Relations.
The northeastern borders with Cameroon, Chad and Niger are porous, with criminal groups and weapons moving freely between countries.
Analysts warn that despite the military buildup, Boko Haram could scatter and find new safe havens.
Many have urged Nigeria to address the social causes fuelling the insurgency, including acute poverty and frustration over excessive government corruption.
Nigeria is Africa's top oil producer, but most of its estimated 160 million people still live on less than two dollars a day.
Nigeria's security forces have been accused of massive rights abuses in campaigns against Boko Haram, which may have amounted to crimes against humanity, according to Human Rights Watch.
The US State Department on Wednesday warned that any "heavy-handed" tactics or disregard for human rights during the emergency operations could damage bilateral relations.
Boko Haram is believed to be led by Abubakar Shekau, declared a global terrorist by the United States, but the extent of his control is unclear.
Shekau has rejected any form of negotiation with Nigeria's government.
The Boko Haram conflict is estimated to have cost 3,600 lives since 2010, including killings by the security forces.

Load more