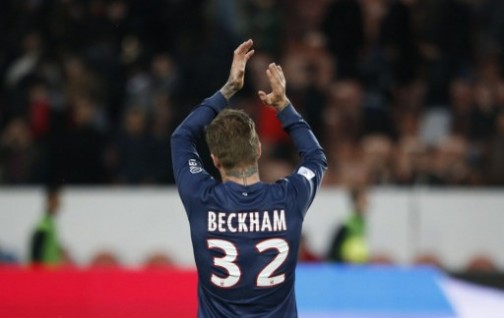 Football megastar David Beckham announced on Thursday that he is to retire after a glittering 20-year playing career in which he became one of the most widely recognised figures in world sport.
The former England captain, 38, made the announcement shortly after winning the Ligue 1 title with French giants Paris Saint-Germain, which made him the first Englishman to win league championships in four different countries.
He bows out from the game at the same time as his former Manchester United mentor Alex Ferguson, who handed Beckham his professional debut in 1992 and thereby launched one of the most newsworthy careers in the history of the English game.
Beckham went on to play for Real Madrid, Los Angeles Galaxy and AC Milan, as well as PSG, and won 115 caps for England in an unprecedented feat for an outfield player.
"I'm thankful to PSG for giving me the opportunity to continue but I feel now is the right time to finish my career, playing at the highest level," Beckham said.
"If you had told me as a young boy I would have played for and won trophies with my boyhood club, Manchester United, proudly captained and played for my country over one hundred times, and lined up for some of the biggest clubs in the world, I would have told you it was a fantasy.
"I'm fortunate to have realised those dreams."
Blessed with an extraordinarily accurate right foot, Beckham was renowned for his dead-ball prowess and his seemingly limitless reserves of stamina.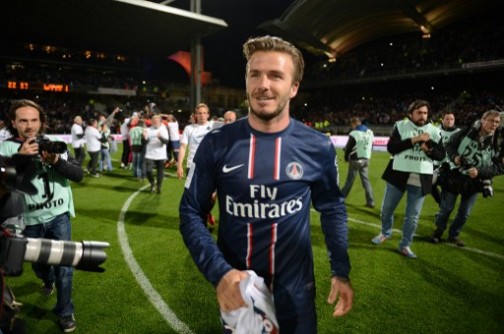 He won six league titles, two FA Cups and the 1999 Champions League with United, creating both injury-time goals as Ferguson's side stormed back to beat Bayern Munich 2-1 in the final, before joining Madrid in 2003, where he won the Spanish league title four years later.
Beckham moved to Los Angeles in 2007 and won two MLS Cup titles with the Galaxy, but he spent two loan spells at Milan and then returned to Europe in January this year, when he signed a short-term deal with PSG.
He is fondly remembered for his exploits in an England shirt, having captained his country for six years and played at three World Cups.
"I knew every time I wore the Three Lions shirt, I was not only following in a long line of great players, I was also representing every fan that cared passionately about their country," he said.
Beckham's global celebrity also turned him into a one-man marketing phenomenon with a glut of lucrative endorsements.
He has long-standing sponsorship deals with firms including Adidas, Armani and Samsung and is believed to share a £200 million ($306 million, 237 million euros) fortune with his wife, Victoria, the pop star turned fashion designer and mother of his four children.
However, he said he wanted to be remembered as a sportsman, rather than a celebrity.
"I just want people to see me as a hard-working footballer, someone with passion for the game and every time I stepped onto the pitch, I've given everything I have, because that's how I feel," he told Sky Sports News.
"People have looked at other things that have happened in my career and sometimes that's overshadowed what I've achieved on the pitch. As much as I say that doesn't hurt me, it does."
Football Association chairman David Bernstein described Beckham as "an iconic figure", while former United team-mate and close friend Gary Neville saluted his impact on English football.
"He had incredible stamina and energy. He was a joy to play with," said Neville.
"And when you think back on the way football has changed over the last 22 years, he has probably been the most influential player in that time out of England in terms of transforming football."
England manager Roy Hodgson said he hoped Beckham would remain in the game.
"I'm rather hoping we'll be able to keep him in football because we can really benefit from his experience, we can really benefit from his charisma and we certainly benefit from the magnificent past he has had as a football player," he said.
FIFA president Sepp Blatter said: "It's the end of a chapter of an amazing story. David grew up as a football loving child and achieved his dreams, and unquestionably inspired millions of boys and girls to try and do the same."
As one of Britain's most recognisable figures, Beckham also worked as an ambassador for last year's London Olympics and carried the Olympic flame to the opening ceremony in a glitzy speedboat ride down the River Thames.
He is due to play his final game for PSG at Lorient's Stade du Moustoir on May 26.

Load more