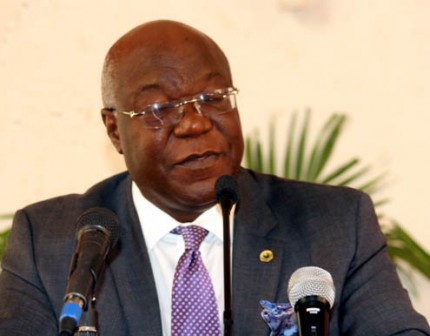 A former Vice Chancellor of the University of Lagos, Profesor Oyewusi Ibidapo-Obe has called for a complete revamp of the Nigerian education sector.
The distinguished academic made the call while delivering the first memorial lecture in honour of Professor Adetokunbo Babatunde Sofoluwe, immediate past Vice Chancellor of the University of Lagos who died last year.
The renowned academic and engineer said effort must be made to provide infrastructure to cater for the educational needs of students who pass out from primary and secondary schools in the country yearly.
Ibidapo-Obe, who is the current Vice Chancellor of the newly established Federal University, Ndufu, Alike, Ikwo in Ebonyi State, southeast Nigeria, berated universities that canvass for students on the pages of newspapers.
"Universities should stop advertising for students. It is not a market matter, it is a question of knowledge, so they should stop asking for students as we see in the papers every day," he said.
Speaking on the theme "Echinodome: The Freedom to Model, Stable, Robust and Progressive Nigerian Universities System (NUS)," Ibidapo-Obe, frowned at Nigeria's current political system of government, especially the national assembly whose membership he said should be on part- time.
He wondered why a country with a low per capita income should finance a full time legislature.
"I have always believed that a legislature should be part time while the money saved is channeled to education."
He called on government to provide a conducive environment for effective impartation of knowledge and skills to learners in both formal and informal setups, so that the people can create jobs for themselves in the absence of opportunities in government establishments.
He challenged every stakeholder at the University of Lagos to ensure that the institution is rated among the best in the world, noting that Nigerians are known across the world for their intellectual contributions to the global knowledge industry.
What is lacking to replicate that internally, he argued, is the will-power to harness that human capital resource for the benefit of the country.
In his address, the National President of the University of Lagos Alumni, Professor Olaide Abass, promised to ensure that the memorial lecture series continue to hold as planned.
He said the late Professor Sofoluwe will forever live on their minds because of his numerous contributions to the University of Lagos community and the alumni.
To this extent, he said, Professor Sofoluwe's name will be engraved on the wall of the alumni building as a mark of the effort he made to see the project come to fruition.
The ceremony was attended by senior academics, a former minister Adeseye Ogunlewe, representatives of the deceased family, students and other guests.
—Nkrumah Bankong-Obi

Load more