Nigerian soldiers have begun an offensive against Boko Haram Islamists, raiding camps in a remote northeastern park, while more than 2,000 troops have been deployed to retake territory seized by the insurgents, a military source told AFP Thursday.
"Our men raided some terrorist camps in the Sambisa Game Reserve," in Borno State, said the senior officer who requested anonymity.
"So far 2,000 troops have been deployed to Borno," he added, declining to comment on the forces sent to the other affected states of Yobe and Adamawa.
The defence ministry yesterday deployed troops and aircraft to the restive three states slammed with emergency rule by President Goodluck Jonathan on Tuesday.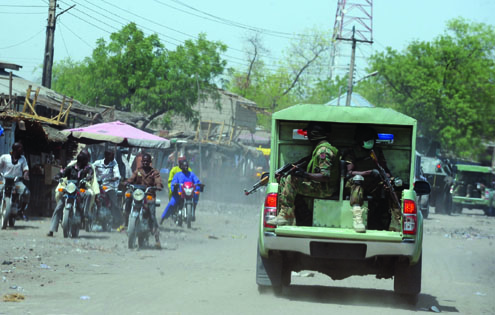 A military source speaking on condition of anonymity told AFP Wednesday that fighter jets would also be deployed to the region.
President Jonathan issued the emergency decree in a broadcast, acknowledging for the first time that Boko Haram Islamists had "taken over" parts of Borno State, the insurgents' stronghold.
"Nigerian Armed Forces have commenced operations to rid the nation's border territories of terrorist bases," a military statement said.
"The operations which will involve massive deployment of men and resources, is aimed at asserting the nation's territorial integrity," it added.
A top US official called on Nigeria to protect the rights of civilians and avoid any "heavy-handed" response against the rebels.
"We call on Nigerian officials to ensure that Nigeria's security forces protect civilians in any security response in a way that respects human rights and the rule of law," State Department spokesman Patrick Ventrell said.
"We have made clear to the Nigerian government that its heavy-handed response to insecurity in northern Nigeria and the failure to address human rights violations will potentially affect our ability to provide security assistance going forward," he added.
The emergency measures were applied to three states, including Yobe and Adamawa, but the offensive is widely expected to be concentrated in Borno, which shares borders with Cameroon, Chad and Niger.
Boko Haram, which says it is fighting to create an Islamic state in Nigeria's mainly Muslim north, had used Borno's capital of Maiduguri as a home base but its fighters have relocated to remote border regions following a crackdown in the city.
The area's borders are porous and analysts say that criminal groups and weapons can move freely between countries.
The military's presence in these areas had previously been limited, especially compared to northeastern cities like Maiduguri and Yobe's capital of Damaturu, where the military has blanketed the streets to combat Boko Haram.

Load more