What will be your expectation if you are told that the likes of Lionel Messi, Ronaldinho, Cristiano Ronaldo and the rest will play against Van Damme, Jet Li, Will Smith and other prominent movie stars in a football match? Such was the situation when former members of the Nigerian Super Eagles staged an entertaining and hilarious novelty match with their counterparts in the entertainment sector on 15 May.
Tagged Soccertainment Charity, the novelty football match truly lived up to its title. It was a match full of laughable dribbles, entertainment, anxiety and drama. Held at the Campus Square pitch, Lagos Island, the match was in honour of Fred Amata, a prominent movie director, producer and actor. The match was part of the activities lined up to celebrate the thespian, who will officially be 50 on 18 May.
In the line-up of the showbiz stars led by the celebrant, Amata, was Ali Baba, AY, Okey Bakasi, Afiz Oyetoro a.k.a. Saka, Chinedu Ikedieze (Aki), Osita Iheme (Pawpaw), Frank Edohor, Kcee, Moses Ewang, Steel and Akpororo, while the ex-internationals side led by Austin Jay Jay Okocha paraded an array of stars including  Peter Rufai, Victor Ikpeba, Ben Iroha, Friday Elahor, Obi-Gold Nwosu, Henry Nwosu, Mutiu Adepoju, Waheed Akanni Emeka Ezeugo and Joe Erico, who was the team coach.
Expectedly, ex-eagles stars dominated the game with brilliant touches, passes and skills, particularly Okocha, who had a field day dribbling the movie, music and comedy stars. But the 5-3 final score was more than enough consolation for the entertainers who were inspired by AY's brace.
Before kick-off, Daddy Showkey, who was at the venue, had written his colleagues off. He joked that: "I'm just here to support you people, not because I believe you can win. As a matter of fact, they (the ex-Eagles) won't score less than 50 goals from us. That is the age of Amata."
Okocha, who played all 90 minutes of the game, inspired his side with a hat-trick, while super sub, Samson Siasia and Friday Ekpo also scored a goal each. Okocha first put his side ahead with two early goals in the fourth and 15th minutes of the game with superb strikes. The entertainers, however, had the opportunity to reduce the tally when a controversial penalty was awarded to them. But Amata was denied a goal by the Ex-Eagles shot stopper.
After some minutes of good and entertaining football by both sides, coupled with some missed clear chances, particular from the showbiz stars, popular comedian, AY revived the hope of his side with a flying header.
Few minutes after the beginning of the second half, Ikedieze (Aki) made the first attempt at goal, but his effort was parried by the opponents' goalie. Two minutes later, Okocha's excellent dribbles and ball control almost yielded another result, but his shot hit the crossbar.
Samson Siasia, after beating Ali Baba on a one-on-one effort, fired a shot to the right corner of the entertainer's goal post. It was a fantastic goal.
Eight minutes later, AY latched on Oreva Amata's cross to complete his brace. Oreva is the son of Fred Amata. Fifteen minutes later, Okocha completed his hat-trick with a classy finish, while film director, Moses Ewang consoled his tired side with a goal, making the final score 5-3 in favour of the Ex-Eagles.
Aside AY, Oreva, comedian Akpororo, Kcee, Moses Ewang, Amata and Ali Baba displayed some promising skills. Ali Baba, who came on after the break, made good defensive saves, until he was beaten by former Super Eagles coach, Siasia.
The introduction of comic actor, Saka as a substitute created more excitement among spectacles, who screamed as they watched the MTN ambassador display some tackles.
It was indeed an emotion-laden honour for Amata, who said he could not express his feelings at the turnout of his colleagues, friends and fans. Actresses Rachael Oniga and Fathia Balogun were also on ground to give support. Others include Segun Arinze, Keppy Bassey, Jude Urhoha, Nomorloss, Yaw and Elenu to mention to mention a few.
"Honestly, I can't thank everybody enough. I feel so honoured for the calls, messages and the presence of everybody. God will bless all of you," Amata said.
Speaking with P.M.NEWS Entertainment Cafe at half-time, Mutiu Adepoju said it was an honour for him to be part of the novelty match. "It's my pleasure being a part of this. Amata is a good fellow. Everybody is having fun and we are enjoying the game.
After the thrilling encounter, Okocha received the highest goal scorer plaque, while Fred and Oreva Amata received the Most Valuable Player (MVP) and Most Outstanding Player laurels respectively.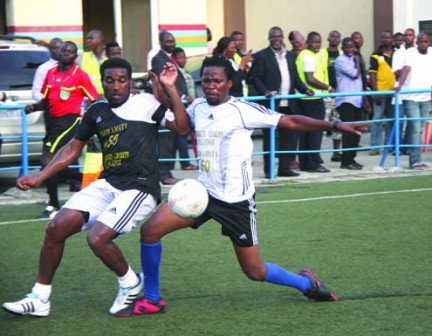 The charity match, was followed by a white tie charity dinner at the MUSON Centre, where musical performances and excerpts from Fred Agbeyegbe's Stage play, The King Must Dance Naked was performed by Fred Amata, Kate Henshaw, Segun Arinze, Keppy Bassey, Francis Onwochei and others.
Amata, a University of Jos Theatre-Arts graduate, has always talked about his undiluted passion for football; little wonder the game was part of the activities lined up for his birthday. "I would say that it was condition that didn't make me play professionally. I went for a couple of trials but they were not willing to take me. You know it is politics. They rejected me. Maybe it was destiny."
His son, Oreva, was a prominent threat to the defence of the ex-internationals, and Amata believes the boy has the potentials of surpassing his exploits as a footballer. "I had been playing soccer since I was small. I remember my first match. Then, I was in nursery school; I scored a couple of goals. I remember everybody was running around the pitch. Now, my son has improved on his father's talent and I'm proud of that."
—Bayo Adetu

Load more