NEHRU ODEH
Nigerian filmmaker and President of the Association of Nollywood Core Producers (ANCOP), Mr. Alex Eyengho has been elected Vice President of the International Federation of Film Producers Associations, FIAPF. With his election, Mr. Eyengho has become the first African to occupy that position.
The election of Eyengho came during the General Assembly of FIAPF held at the ongoing Cannes International Film Festival in France on 18 May 2013. Through the efforts and platform of ANCOP, Nigeria was in May 2011 officially admitted into the membership of FIAPF during the Cannes International Film Festival in France.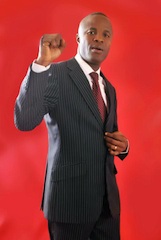 While addressing international journalists shortly after his election, Mr. Eyengho, who thanked FIAPF members from over 28 countries of the world for the confidence reposed in him, stated that his victory was the beginning of a new dawn for Nollywood, adding that it was not for ANCOP alone but for Nigeria and Africa as a whole.
"My election is not about me or ANCOP. It is about deepening the Nollywood brand. It is about attracting maximum respect to Nigerian film producers at the international level. It is about Nigeria. It is about Africa. This is a confirmation and testimony to the fact that we are on the right track in Nollywood. The election is over. We must get to work immediately. Because of my humble experience in the industry, I know I shall hit the ground running with a view to ensuring that value is added to Nollywood and the African film community as a whole within the ambit of the lofty aims and objectives of FIAPF," he said.
Delta State-born Alex Eyengho holds a first degree in Mass Communication from the Federal Polytechnic, Oko, a Master in Business Administration (MBA) from the University of Liverpool, United Kingdom, and a Master in Media and Communication (MSc.) from the School of Media and Communication of the Pan- African University, Nigeria.
He also holds several other certificates including the ones in 'Best Journalism Practices in the Digital Age', powered by the United States Consulate, Lagos, and 'Film Production and Script Writing' powered by the Deutche Welle Akademie, Germany.
A practicing journalist cum filmmaker of over 17 years, Alex Eyengho who is also the President of the Association of Itsekiri Performing Artistes (AIPA), has produced, directed and or acted in films like award-winning Oma tsen-tsen and Nanna of the Niger Delta; AMAA-nominated Suara La; Beyond Obligation (1 & 2), Ogodobiri, Judgment Day, Second Coming, Scruples, A Queen for Domingo, Back to Africa etc.
He is well traveled both locally and internationally, where he has participated in various film festivals, master classes, conferences, seminars and workshops as Guest Speaker, Panelist or Delegate in places like USA, UK, Germany, France, Switzerland, and South Africa etc

Load more