Professor Wole Soyinka, Nobel Laureate, in an interview with Sahara Reporters, speaks on his relationship with compatriot, Chinua Achebe and slams those, he describes as 'an incorrigible sect', promoting lies that his Nobel prize poisoned the relationship. Excerpts…
"Well then, this prospect that "my 1986 Nobel Prize in literature poisoned my personal relationship with a supposedly resentful Achebe" – I think I shouldn't dodge that either. Even if that was true – which I do not accept – it surely has dissipated over time. For heaven's sake, over twenty-five people have taken the prize since then! The problem remains with those vicarious laureates who feel personally deprived, and thus refuse to let go. Chinua's death was an opportunity to prise open that scab all over again. But they've now gone too far with certain posturings and should be firmly called to order, and silenced – in the name of decency.
I refer to that incorrigible sect – no other word for it – some leaders of which threatened Buchi Emecheta early in her career – that she had no business engaging in the novel, since this was Chinua's special preserve! Incredible? Buchi virtually flew to me for protection – read her own account of that traumatizing experience. It is a Nigerian disease. Nigerians need to be purged of a certain kind of arrogance of expectations, of demand, of self-attribution, of a spurious sense and assertion of entitlement. It goes beyond art and literature. It covers all aspects of interaction with others. Wherever you witness a case of 'It's MINE, and no other's', 'it's OURS, not theirs', at various levels of vicarious ownership, such aggressive voices, ninety percent of the time, are bound to be Nigerians. This is a syndrome I have had cause to confront defensively with hundreds of Africans and non-Africans. It is what plagues Nigeria at the moment – it's MY/OUR turn to rule, and if I/WE cannot, we shall lay waste the terrain. Truth is, predictably, part of the collateral damage on that terrain.
Yes, these are the ones who, to co-opt your phrasing, "diminished (and still diminish) Chinua's image". In the main, they are, ironically, his assiduous – but basically opportunistic – hagiographers – especially of a clannish, cabalistic temperament. Chinua – we have to be frank here – also did not help matters. He did make one rather unfortunate statement that brought down the hornet's nest on his head, something like: "The fact that Wole Soyinka was awarded the Nobel Prize does not make him the Asiwaju (Leader) of African literature". I forget now what provoked that statement. Certainly it could not be traced to any such pretensions on my part. I only recollect that it was in the heat of some controversy – on a national issue, I think.
But let us place this in context. Spats between writers, artists, musicians, scientists, even architects and scientific innovators etc. are notorious. They are usually short-lived – though some have been known to last a life-time. This particular episode was at least twenty years ago. Unfortunately some of Chinua's cohorts decided that they had a mission to prosecute a matter regarding which they lacked any vestige of understanding or competence or indeed any real interest. It is however a life crutch for them and they cannot let go.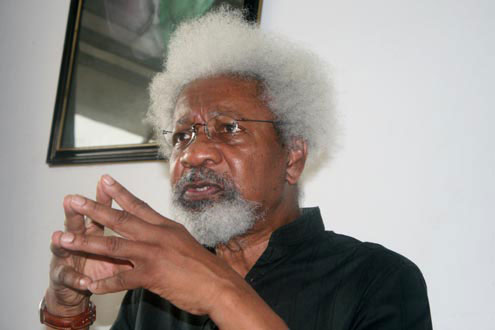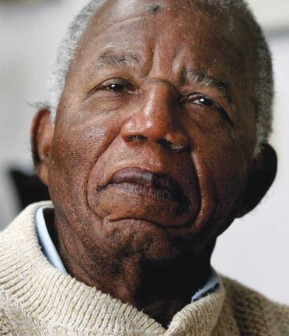 What they are doing now – and I urge them to end it shame-facedly – is to confine Chinua's achievement space into a bunker over which hangs an unlit lamp labeled "Nobel". Is this what the literary enterprise is about? Was it the Nobel that spurred a young writer, stung by Eurocentric portrayal of African reality, to put pen to paper and produce Things Fall Apart? This conduct is gross disservice to Chinua Achebe and disrespectful of the life-engrossing occupation known as literature. How did creative valuation descend to such banality? Do these people know what they're doing – they are inscribing Chinua's epitaph in the negative mode of thwarted expectations. I find that disgusting.
China, with her vast population, history, culture – arts and literature – celebrated her first Nobel Prize in Literature only last year. Yet I have been teaching Chinese literature on and off – within Comparative literary studies – for over forty years. Am I being instructed now that those writers needed recognition by the Nobel for me to open such literary windows to my students? Do these strident, cacophonous Nigerians know how much literature – and of durable quality – radiates the world?
Let me add this teacher complaint: far too many Nigerians – students of literature most perniciously – are being programmed to have no other comparative literary structure lodged in their mental scope than WS vs. CA. Such crass limitation is being pitted against the knowledgeable who, often wearily, but obedient to sheer intellectual doggedness, feel that they owe a duty to stop the march of confident ignorance. For me personally, it is galling to have everything reduced to the Nigerian enclave where, to make matters even more acute, there are supposedly only those two. It makes me squirm. I teach the damned subject – literature – after all. I do know something about it.
So let me now speak as a teacher. It is high time these illiterates were openly instructed that Achebe and Soyinka inhabit different literary planets, each in its own orbit. If you really seek to encounter – and dialogue with – Chinua Achebe in his rightful orbit, then move out of the Nigerian entrapment and explore those circuits coursed by the likes of Hemingway. Or Maryse Conde. Or Salman Rushdie. Think Edouard Glissant. Think Ngugi wa Thiong'o. Think Earl Lovelace. Think Jose Saramago. Think Bessie Head. Think Syl Cheney-Coker, Yambo Ouologuem, Nadine Gordimer. Think Patrick Chamoiseau. Think Toni Morrison. Think Hamidou Kane. Think Shahrnush Parsipur. Think Tahar Ben Jelloun. Think Naguib Mahfouz – and so on and on along those orbits in the galaxy of fiction writers. In the meantime, let us quit this indecent exercise of fatuous plaints, including raising hopes, even now, with talk of "posthumous" conferment, when you know damned well that the Nobel committee does not indulge in such tradition. It has gone beyond 'sickening'. It is obscene and irreverent. It desecrates memory. The nation can do without these hyper-active jingoists. Can you believe the kind of letters I receive? Here is one beauty – let me quote:
"I told these people, leave it to Wole Soyinka – he will do what is right. We hear Ben Okri, Nuruddin Farah, even Chimamanda Adichie are being nominated. This is mind-boggling. Who are they? Chinua can still be awarded the prize, even posthumously. We know you will intervene to put those upstarts in their place. I've assured people you will do what is right."
Alfred Nobel regretted that his invention, dynamite, was converted to degrading use, hence his creation of the Nobel Prize, as the humanist counter to the destructive power of his genius. If he thought that dynamite was eviscerating in its effects, he should try some of the gut-wrenching concoctions of Nigerian pontificators. Please, let these people know that I am not even a member of Alfred's Academy that decides such matters. As a 'club member,' however, I can nominate, and it is no business of literary ignoramuses whom, if any, I do nominate. My literary tastes are eclectic, sustainable, and unapologetic. Fortunately, thousands of such nominations – from simply partisan to impeccably informed – pour in annually from all corners of the globe to that cold corner of the world called Sweden. Humiliating as this must be for many who carry that disfiguring hunch, the national ego, on their backs, Nigeria is not the centre of the Swedish electors' world, nor of the African continent, nor of the black world, nor of the rest of the world for that matter. In fact, right now, Nigeria is not the centre of anything but global chagrin.
Chinua is entitled to better than being escorted to his grave with that monotonous, hypocritical aria of deprivation's lament, orchestrated by those who, as we say in my part of the world, "dye their mourning weeds a deeper indigo than those of the bereaved". He deserves his peace. Me too! And right now, not posthumously.
It is not all bleakness and aggravation however – I have probably given that impression, but the stridency of cluelessness, sometimes willful, has reached the heights of impiety. Vicarious appropriation is undignified, and it runs counter to the national pride it ostensibly promotes. Other voices are being drowned, or placed in a false position, who value and express the sensibilities between, respect the subtle threads that sustain, writers, even in their different orbits. My parting tribute to Chinua will therefore take the form of the long poem I wrote to him when he turned seventy, after my participation in the celebrations at Bard College. I plan for it to be published on the day of his funeral – my way of taunting death, by pursuing that cultural, creative, even political communion that unites all writers with a decided vision of the possible – and even beyond the grave."

Load more