Kazeem Ugbodaga
Governor Babatunde Fashola has set up a tribunal of enquiry into incessant collapse of buildings in Lagos State.
The tribunal is chaired by Arch. Abimbola Ajayi, while other members are Mr. Joseph Adewale, Mrs. Roli Craig, Mr. Segun Adedeji, Mr. Moses Ogunleye and Architect Biodun Rufai.
Inaugurating the tribunal at the State House, Ikeja, Lagos, Southwest Nigeria today, Fashola said he expects the tribunal to diligently inquire into the immediate and remote causes of collapsed buildings in the state, especially those that recently collapsed.
Giving the tribunal three months to submit its report, the governor said the Commissioner for Physical Planning and Urban Development would provide for the panel detailed information on recently collapsed buildings and look into the quality of building materials and building methods employed in the state generally.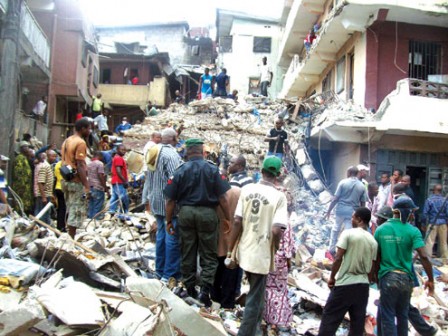 "It is expected that the tribunal will come up with recommendations and measures to avert building collapse in the state; advise on the roles of persons involved in collapsed buildings and recommend appropriate legal actions.
"I hereby require that the tribunal submits its reports within three months commencing from the date of the first sitting to such extended period that I may allow it. Our government remains grateful to all of you for accepting to serve on this panel," he said.
The governor lamented that over the years, building collapse had been an incident that had challenged the state's capacity to protect lives and properties, stressing that it had been an environment of mixed blessings.

Load more