Jeta Amata, a Nigerian filmmaker of international repute, talks about the challenges of Nollywood and his sojourn in the United States of America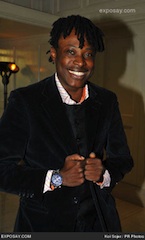 You have relocated to the US for some years now. Do you have plans to come back to Nigeria?
Of course, all I'm doing is to bridge the gap between Hollywood and Nollywood. So it's not like I have relocated permanently. I'm only here to learn more about the profession. I'm doing this so that we can make our market bigger and a lot better so that we can all benefit from it. So I am not going to abandon Nollywood.
How do you brand yourself now, a Hollywood director or Nollywood director?
I'm an African film maker, that's not going to change. You see, Nollywood is not a name that we like, we fought against it in the beginning. But it has become a name they talk about everywhere in the world. Now, tell me why we won't associate with it?
If I make a couple of Hollywood films, it's not going to change who I am and where I am coming from. I built Nollywood with people out there, I worked hard for the market, I learnt like other Nollywood directors.
Do you think that the choice of Ibinabo Fiberesima as the president of the Actors' Guild of Nigeria (AGN) is a good one?
I will say yes. All the past presidents of AGN have always been very close friends of mine. These are people that I have grown with. Ibinabo is closer to my age. I have known her right from when she was in the university as a beauty queen. She runs the Club Pyramid on Victoria Island, she owns the club and I go there almost every night. She had a relationship with Fred Amata, my uncle, and now has a daughter for him, so Ibinabo is like my family. There is one thing I know about her, she's a positive-thinking lady and she is vibrant. She's an entrepreneur, she understands people. I think part of what she wants to do is bring that acumen which she used in running the club in her tender age. I think she's going to bring that into the industry, so I feel confident that we're moving forward the way I've always felt, that we are moving forward and will keep moving forward.
But there are factions in the guild?
We are all going to come together when there is a proper structure; that is why we talked about government'sw efforts in putting the structure in place. When the structure is properly aligned, then moving forward is not going to be a problem. We have been moving forward over the years, and we will continue to move forward.
The Ejiros and the Amatas seem to be dominating the movie industry. What's your take on this?
Well, we do not dominate, because the word dominate comes out in a way I wouldn't want to be identified with. The Ejiros and Amatas have given a lot in the industry for several years. We have worked hard and we've contributed our quota to the industry and inspired a lot of people who are working right now. I would say that is what we have been doing, but not dominating. We are good at what we do. I refuse to identify with the word that we dominate because we don't dominate.
In what areas do you think Nollywood needs to improve?
What we should do better isn't what really matters. The quality of the films we make would improve when there is more money and when we can afford better equipment. When we have more Silverbirds and Genesis all over Nigeria, then we wouldn't need to go anywhere else in the world, because with money in Nigeria, we would be as good as our counterparts in other parts of the world. At one point, Silverbird was the only cinema we have in Nigeria. South Africa has close to 500 or even more. That would be everything we need because with all the money that goes in and out of Nigeria, it is still a shock that government has not identified that Nollywood is a huge success and given it more attention. If we have all that in Nigeria, Hollywood will be begging to come to us, because they know that with us, they can expand their market. The moment they know we have a huge market, they will be begging to do collaborations with us. The US movie industry accounts for about $40.1 billion yearly. These people have identified that entertainment is a serious money-making machine for them, yet we have had lots of leaders who have gone abroad and have not thought of replicating that at home. Put theatres all over Nigeria and you will see the money rolling all over in just a few years. That is what we have to do better. We need partnership so that we can set up distribution properly in Nigeria.
When did you start filmmaking?
I have been making films for about 15 years now. My first film was made in 1995 and was released in 1996 Glamour Boys. It has been a long hard journey but I thank God for where I am right now.

Load more