Ayodeji Dedeigbo, Yusuf Mohamed & Sulimon Mojeed-Sanni
The Lagos State Police Command, southwest Nigeria, Tuesday paraded four suspected human parts sellers.
The suspects identified as Ajibade Rafiu aka Dudu, 30, Fatai Akiwowo, 30, Kazeem Sanni 25, and Agboola Kolawole, 40, were arrested at Owode-Idiroko in Ogun state and Badagry in Lagos state.
The suspected leader of the gang, Jamiu Adeleke Alias Alpha, before his death, allegedly confessed to have sold six human heads to his clients.
Adeleke was apprehended by men of the Lagos State Special Anti-robbery Squad led by the Officer in charge S.P. Abba Kyari. He died shortly after his confession.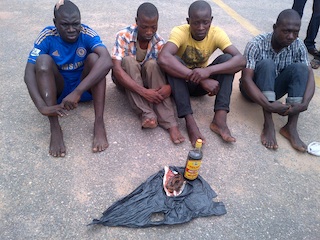 Kyari told P.M.NEWS that "last week Monday, when I received this information I quickly deployed one of my teams led by Supol Adetarami Adegbehin who really performed very well.
"Jamiu, who was a traditional herbal medicine seller was arrested on Monday, 13 May, 2013 at about 11.30pm, with human parts that can be identified to belong to a woman because of the painted nails.
"Our investigations revealed that he specialised in selling human parts to yet to be identified buyers in the society. Following a tip-off that human parts were being sold in Owode-Idiroko, we moved in and arrested the suspects."
P.M.NEWS sources at the Police Command revealed that the men of the Command while carrying out the operation, had to disguise as potential buyers of human head.
In the course of the negotiation, one of the two suspects on sensing danger took to his heels while the other was arrested with different human parts.
Following interrogation, Jamiu led the police to Ilobi Ereni in Badagry, Lagos, where a 30-year old man called Rafiu Ajibade was also arrested.
Another suspect Agboola Kola aka Ola, a local traditional masquerade attendant was also arrested in Badagry.
The young man was said to be the most recent buyer of a human head.
.
Agboola Kola allegedly confessed that he was only given N1,500 for his role in the business, and that he did not know what the human part was used for.
Rafiu Ajibade in his alleged confession to the police said he cut off his two dead brothers and sister's heads from the grave.
One of the suspects, Kazeem Sanni, said " I dont know they were human parts dealers. I am an Okada rider. I was unfortunate to have been arrested with them. I know nothing about it."
All the suspects are being detained at SARS for interrogation after which they will be charged to court very soon.

Load more