JETHRO IBILEKE/Ogidi
The people of Ogidi, home town of world renowned Nigerian novelist, Chinua Achebe have expressed their readiness to receive the remains of the late literally icon for a befitting traditional and heroic burial.
The small community wears a new look as all roads leading to Achebe's final resting place are swept clean with the kerbs painted black and white.
Those who spoke to P.M. NEWS said even though they are saddened by Achebe's death, they are however delighted to give him the heroic burial that he deserves.
Okoli, a welder whose workshop is located a few meters away for the family compound of Chinua Achebe, said the death of the novelist saddens him, but he is happy that he has the opportunity to give him the last respect in his ancestral hometown.
"Even though we are sad that he has passed away, we are still happy that we witness this day. We would have wanted him to remain with us forever, but we all know that is not possible. His burial is a heroic one. He deserves it.
"We will all miss him, but he will live for ever in our hearts and everyone who reads any of his books. Achebe puts the name of Ogidi on the world map. For that alone, he deserves the heroic burial that we are giving him," Okoli said.
A staff of Idemili North local government area who identified herself simply as Amaka, said Achebe's demise should not be taken in bad faith, saying that the man was old and satisfied with age.
"Even though no one is too old to live, but to me, Achebe was a fulfilled man. He lived a happy and fulfilled life. He was known the world over and generations to come will still remember him. So, to me, Achebe's departure should be celebrated.
"We in Ogidi are happy that our illustrious son is embarking on his journey to eternity. We are happy for him," Amaka told P.M. NEWS.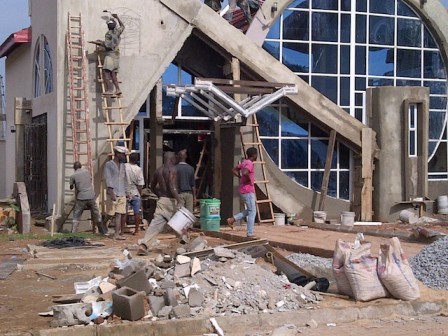 The country home of the literary giant, located along Abatete-Ezi Uwerri Road was a beehive of activities as construction workers were everywhere working to complete the final resting place of Achebe. Others were also busy erecting tents and canopy for the service of songs slated for Thursday evening.
The Achebe family compound, located at Ngwazike roundabout, about 1000 meters away from Achebe's country home was also full of activities.
Ogidi, a small community of several thousands in population and headquarters of Idemili North Local Government Area of Anambra state, is a journey of about 30 minutes' drive from Onitsha, the commercial headquarters of the south east.

Load more