Governor Sullivan Chime of the eastern Nigerian state of Enugu was conspicuously missing on Thursday at the burial rites for the literary icon, Chinua Achebe in the neighbouring Anambra state.
The Governor did not also attend the Church service and the burial in Achebe's family compound in Ogidi, setting tongues wagging about his health.
On the same day, Chime, battling with cancer of the nose, also sent his commissioner for health to represent him at an event in Nsukka, where the council launched maternal and new born health week.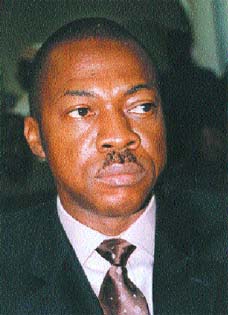 There, Chime's representative, Dr. Fidelis Ugwu conveyed the Governor's message, calling on mothers to take immunisation of their children more seriously.
Chime also urged traditional rulers and other stakeholders to assist the state to achieve its objectives in child immunisation and maternal health care.
"Mothers are advised to take their children of between one year and five years to the nearest health centres for free treatment and gifts from today till five days the week will last.
"As traditional rulers of your communities, always ensure that information on immunisation gets to every part of your community.
"With healthy children and mothers, we will have healthy and productive nation,'' he said
Chime commended the Chairman of the local government, Mr Tony Ugwu, for employing more than 200 health workers as well as distributing free drugs to health centres in the area.
"It is in line with the state's vision to ensure that adequate health care is provided for all residents. With adequate health care, infant and maternal mortality will be reduced to the minimum.
"The aim of the week is to ensure that mothers and children who are the most vulnerable groups are given adequate attention," he said.
The UNICEF Assistant Representative in Enugu State, Mr Charles Nzuki, said the week was endorsed by the National Council on Health at Asaba three years ago, with the aim of delivering an integrated high impact maternal, new born and child interventions.
He said UNICEF was delighted with the high level of commitment shown by the state in delivering robust health services for children, mothers and pregnant women in the state.
"The overall goal is to provide access to prevention and promotion of healthcare for mothers, new born and pregnant women," he said
Some 500 pregnant and nursing mothers from different areas attended the ceremony at the Government Field, Nsukka.

Load more