.Archbishop of canterbury, President Jonathan and many dignitaries expected

by Joel Olatunde Agoi
Revered Nigerian writer Chinua Achebe, author of the widely praised novel "Things Fall Apart," will be buried in his small hometown on Thursday in a ceremony expected to draw crowds of mourners.
Achebe, who died in the United States in March aged 82, is viewed as an iconic figure in Nigeria and abroad and his death lead to tributes worldwide.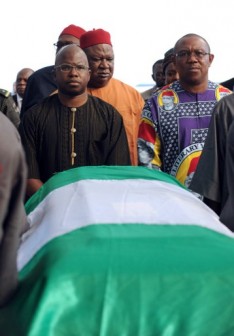 Nigerian leaders, foreign dignitaries, fellow writers and the Archbishop of Canterbury were expected to be among those arriving in the town of Ogidi in southeastern Nigeria to pay tribute to Achebe.
Achebe was a harsh critic of corruption in Nigeria and twice refused national awards. President Goodluck Jonathan was nevertheless expected to attend the service, according to a source in the presidency.
Ogidi, located in Nigeria's Anambra state, was decorated with posters of Achebe, while police were stationed throughout the town. A wake was held inside the family compound on Wednesday evening as crowds gathered in the streets.
On Thursday, his private burial on the family compound will follow a service at a local Anglican church.
"The death of my uncle is indeed a great loss not only to the family but to Nigeria and Africa as a whole," 64-year-old Obi Achebe said at the compound on Wednesday evening.
"He has left big shoes that will be difficult to be worn by anybody."
Achebe had lived and worked as a professor in the United States in recent years, most recently at Brown University in Rhode Island. A 1990 car accident left him in a wheelchair and limited his travel.
Tributes continued to pour in on Wednesday ahead of the burial. Nigeria's Guardian newspaper dedicated an entire page to a poem written for Achebe by Wole Soyinka, the Nigerian writer and Nobel literature laureate.
Some 2,000 people packed a stadium in the Anambra state capital Awka on Wednesday where Achebe's coffin was put on display.
While he was known worldwide mostly for "Things Fall Apart," a novel about the collision of British colonialism and his native Igbo culture in southeastern Nigeria, Achebe also wrote non-fiction that tackled his country's problems.
Nigeria is Africa's most populous nation and largest oil producer, but remains severely underdeveloped, held back by corruption and mismanagement.
His work earned him praise from some of the world's most respected leaders, including Nelson Mandela, who described him as a writer "in whose company the prison walls fell down".
South African writer and Nobel laureate Nadine Gordimer called Achebe the "father of modern African literature" in 2007, when she was among the judges to award him the Man Booker International prize for fiction.
As well as criticising misrule in Nigeria, Achebe also strongly backed his native Biafra, which declared independence from Nigeria in 1967, sparking a civil war that killed around one million people and only ended in 1970.
The conflict was the subject of a long-awaited memoir he published last year, titled "There Was A Country: A Personal History of Biafra."
"Things Fall Apart" — his first novel — was published in 1958. The novel, which traced an Igbo tribesman's fatal brush with British colonialists, has sold more than 10 million copies worldwide and has been translated into 50 languages.
The London Guardian wrote in 2007 that the novel "turned the west's perception of Africa on its head — a perception that until then had been based solely on the views of white colonialists …"
It has become required reading at many universities in various countries, and Achebe is credited with profoundly influencing a generation of Nigerian writers who followed him.

Load more