Former Bayern Munich striker Roy Makaay is certain the Bavarians, Bayern Munich, will emerge victorious in Saturday's Champions League final against Borussia Dortmund.
The Bundesliga champions were beaten by Chelsea in last year's showpiece, while Inter proved to be too strong in the 2010 final.
However, the Dutchman is confident that Bayern have what it takes to bring the trophy home this time round.
"I think Bayern have a very good chance. If the team play the way they did in the semi-final, I'm confident they'll win," Makaay told the official Bundesliga website.
"It's a one-off game and you can never tell what might happen, but that said, I'm sure Bayern are going to do it this time. Dortmund are not bad at all, but Bayern are a little bit better. "Every opponent's awkward in a final, but Dortmund have nothing to lose. Bayern have got this far for the third time in four years and they lost on previous occasions. "The pressure's on them – but then, they're a club who are used to dealing with pressure." Makaay represented Bayern between 2003 and 2007, winning two Bundesliga titles during his time in Munich.
On the other hand, ex-Borussia Dortmund striker Alexander Frei has backed his old club to beat Bayern to the trophy.
"Borussia Dortmund will win the Champions League!" he told Fifa.com.
"I knew BVB would get past Malaga in the quarter-finals. The pressure at Signal Iduna Park when the fans get behind the team is so enormous, only the truly great teams survive.
"Against Real Madrid in the semi-final return leg, Dortmund could so easily have landed a lucky punch, as people call it, then it would have been basically all over from the start.
"But I do have to say if the game had gone on five or seven minutes longer, BVB would have been knocked out."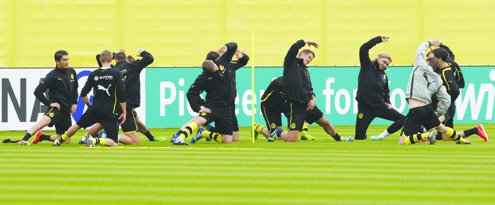 Frei went on to say that German teams are now setting the standard in European football.
"Bayern Munich and Borussia Dortmund have developed a playing style which could well set the benchmark for the next two years," he said.

Load more