At exactly 07:30p.m. West Africa time Thursday, Tinsel, one of Africa's favourite and most successful weekday soap operas, played out its 1000th episode. It was a milestone given the unfortunately high  rate at which TV soaps disappear from Africa's contemporary television circuit. Launched five years ago, Tinsel, the multi-camera, multi-million naira studio-based production has turned out the most watched soap on  cable and terrestrial television. It has set a high standard of quality in the production of soap in the industry. And this is not by accident. The quality of the cast and crew stands the soap out.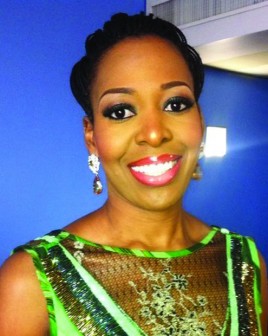 In its first season, the soap progressed from airing two times a week to showing every day except at weekends. Initially, it had a cast which comprised actors from both Nigeria and Ghana, though Nigeria had over 90 percent of the cast and the crew. Tinsel started with a lot of expectations.  It was simply a return to the golden era of television drama.
"M-Net is delighted that Tinsel continues to be a popular series and is growing from strength to strength as Nigerian audiences positively react to its story lines and its characters. M-Net believes in investing in local talent, and with Tinsel, we are confident that our investment is reaping rewards by creating a series that is compelling, entertaining and dynamic," said Biola Alabi, Managing Director, M-Net Africa.
Shot on location in Lagos, set in the glittering and dynamic world of film production, Tinsel melds all the elements of drama, intrigue, romance, deception, betrayal and triumph, into one thrilling 'must watch' series. Now in its fifth season, the series tracks the story of two rival film production outfits whose fierce battles for box-office dominance see them taking their rivalry from film-sets to industry boardrooms and everywhere in between.
This drama series centres around the energetic and enigmatic Fred Ade-Williams (Victor Olaotan), founder of Nigeria's biggest independent film company, Reel Studios, who gets drawn into a battle of wills with daring newcomer Brenda "Nana" Mensah (Funmilola Aofiyebi-Raimi), whose beauty and intelligence is only surpassed by her drive to transform her film company, Odyssey Pictures, into a dominant force. And she will stop at nothing. Brenda installs a link in Fred's company as a mole, and her exploitation of it sparks off a corporate war that reverberates throughout the entire film industry. What starts out as a power struggle between these two influential studio owners soon grows disastrously out of control. No one is immune and everything is put to the test as these titans clash and destinies are changed, forever. With so much at stake, Fred's refusal to sink to his opponent's level raises fear whether this will cost him everything he has ever held dear.
Tinsel is showing in about 45 African countries and has millions of fans around the world.
There was slight drop in the quality of production when the studios at Phillips building, Ojota, Lagos, where the soaps was being recorded, was gutted by fire some months ago. Some scenes had to be shot outdoors, pending when the entire studios will be put in place; though the soap retained its X-Factor.
Other actors that have made Tinsel a must watch include: Iretiola Doyle, Gideon Okeke (Philip Ade-Williams), Omar Shariff Captain (Reginald), Uzo Egeonu, (later replaced with Funmi Holder as Amaka), Matilda Obaseki (Angela), Chris Attoh (Kwame), Kunle Coker (Ziggy), Gbenro Ajibade (Soji), Iyke Okechukwu (Chuks), and Damilola Adegbite (Telema Duke).
Other major characters include the couple, Florence Uwaleke (Ene) and Iyke Okechukwu (Chuks) who recently got married in real life. There is also the hilarious trio of Biola Segun Williams, (Titi Kagbesioye), Dan Ade-Williams (Bimbo Manuel), the estranged brother of Fred and their daughter, Shalewa, played by Tomi Odunsi, who in real life is an upcoming musician.
Top actor, Richard Mofe-Damijo (RMD), made a debut appearance in Tinsel during its Season Four. He joined the league of Nollywood stars who have made appearances in the soap since 2008. Others are Jide Kosoko, Segun Arinze, Taiwo Ajai-Lycett, Bayo Bankole, Kalu Ikeagwu, Norbert Young, Ann Njemanze, Carol King, Jude Orhora, among others.
Recently, new faces such as Tunde Kelani, Chioma Chukwuka-Akpotha, Ghana's Majid Michel and Nse Ikpe Etim joined Tinsel cast.
There are also non-actors who have been allowed to play cameos in one or two scenes. Karen Igho, one time winner of the Big Brother Africa show, is currently on the show.
Tinsel is not just for the oldies. It has also created new talents for the industry. Acts such as Damilola Adegbite, Gbenro Ajibade, Ifeanyi Dike Jr., Linda Ejiofor, were really unknown prior to Tinsel. Today, they are stars who can't just walk the streets without being noticed.   Nigerian film/TV industry will benefit immensely from capacity building and exposure through  this eclectic mix of actors.
P.M.NEWS Entertainment Café observed that the team headed by Alabi, has created a show that competes with the best across the continent and will surely be around for some more years. But that has not insulated the series from having its own fair share of controversies. There have been controversial exit of some major characters in Tinsel. After four years of playing the role of Telema Duke on the soap, Adegbite announced her exit from the series. Also, beautiful Obaseki was relieved of her role when she became pregnant in real life. Her role as Angela Dede, a personal assistant working in a Production Studio, was then handed to Ghanaian Actress, Leonora Okine, who replaced her.
The exit of Coker (Ziggy) was trailed by stories about artistes asking for pay rise, while another of their top actors lashed out on Twitter, calling the scriptwriters of Tinsel dummies. And this turned a huge trending discourse on social media.
In spite of all this, Tinsel continues to gain more converts.
Juliet Femi, a fan of the drama series said Tinsel represents Nigeria's acting prowess.
"I love watching the series because it is captivating. The story line, the characters are very interesting. My favourite character is Brenda Mensah, she is stern and determined to stand against her father, Fred Ade Williams till the end," said Femi.
To celebrate this memorable 1000th episode, the cast and crew of the series had a photo shoot of themselves and visited different states in Nigeria to meet fans and sign autographs.
—Funsho Arogundade

Load more