Ayo Oluokun/Abuja
Governors loyal to President Goodluck Jonathan, led by Godswill Akpabio, the Governor of Akwa Ibom State are kicking against the return of Rotimi Amaechi, their Rivers State counterpart as the Chairman of Nigeria Governor's Forum, NGF in an election conducted in Abuja on Friday.
Amaechi was declared re-elected after a three hour meeting of the NGF in Abuja today.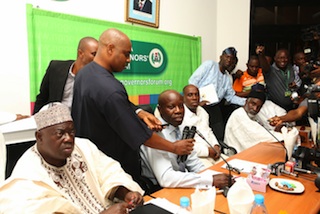 A.B. Okauru, Director-General NGF who presided over the election had announced that Amaechi defeated his opponent, Governor Jonah Jang of Plateau State by 19 to 16 votes. 35 of the 36 Nigeria state governors were present and voted during the election.
But in what seem a continuation of the intrigues and high wire politics that had characterized the election, Akpabio who led the other Governors who were disappointed by the result away from the venue of the election immediately after its announcement later told journalists at the Akwa Ibom State Lodge, Abuja that the poll was a sham.
He was supported by Jang of Plateau and Governors Emmanuel Uduaghan of Delta, state Olusegun Mimiko of Ondo state and Peter Obi of Anambra state, all of whom are regarded as die hard supporters of President Jonathan.
Akpabio declared that contrary to the result declared, Governor Jang won the election by 19 votes.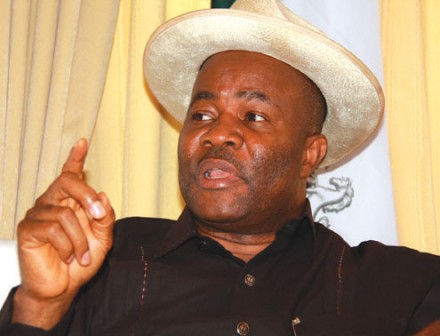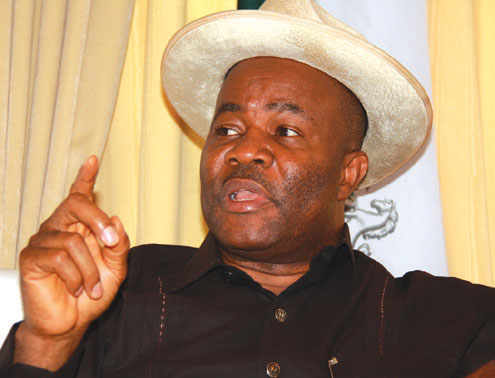 Though the election was conducted by open-secret balloting in which each voter (governor) was handed a paper on which to write the name of his choice and drop in a box, Akpabio distributed a sheet of paper containing 19 signatures which he said belonged to the Governors that voted for Jang.
Consequently, the Akwa Ibom State Governor said he and his colleagues regarded Governor Jang as the validly elected Chairman of NGF.
President Jonathan and his supporters within the ruling PDP are believed to be against the return of Amaechi as the Chairman of NGF over concerns that the Rivers State Governor may contest for the presidency or as vice president to a Northern presidential candidate in the 2015 election.
The PDP Governor's Forum led by Akpabio was formed earlier in the year as a counterpoise to Amaechi led NGF.
Reports indicated that Akpabio had been in Abuja for some days before today's election trying to lobby other governors against voting for Amaechi.

Load more