Guatemala extradited ex-president Alfonso Portillo to the United States on Friday to face charges of laundering $70 million, sending him on a plane under the escort of US agents in a first for Latin America.
"Hasta luego (see you later), people of Guatemala," Portillo, 61, said as he boarded the small plane at the air force headquarters south of the capital.
Portillo, who was president from 2000 to 2004, is the first former Latin American leader to be extradited to the United States. Panama's former dictator Manuel Noriega was ousted by US troops in 1989 and jailed in Miami for 20 years on drug charges.
Wearing a black sweater jacket and holding two books, the former president described his extradition as a "kidnapping" and accused the Guatemalan government of breaking the law since he still had cases pending in his country
"They have acted illegally against me from the beginning. They have violated all my rights," he declared after being taken from the military hospital where he was being treated for health problems.
"They are taking me away sick, so I hold the government and the interior minister responsible for anything that may happen to my health. I'm not well," he said, adding he had fluid in one lung and an abnormal heart beat.
The United States welcomed the extradition as "an important affirmation of the rule of law and due process in Guatemala."
"We commend the commitment of Guatemalan authorities to strengthen the rule of law and combat organized crime and corruption," William Ostick, a US State Department spokesman, told AFP.
Portillo had been fighting extradition since it was approved by then president Alvaro Colom in 2011.
"I will be back," he said as dozens of supporters protested outside the air base. "The evidence they have is not enough to convict me, and I thank the Guatemalan people for its support."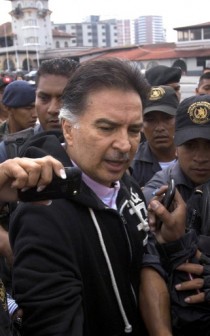 Following a request from a New York court, he was arrested in January 2010 as he was trying to flee to Belize. Portillo has described the case against him as a "political persecution."
Portillo was indicted by a US grand jury on charges of embezzling tens of millions of dollars of public funds and laundering the money through US and European banks, including $1.5 million intended for Guatemalan school children.
His attorney, Mauricio Berriondo, said the extradition was "outside any legal framework" and was conducted "by force."
In 2011, a Guatemalan court acquitted Portillo and two of his former ministers of conspiring to embezzle $15 million from the defense ministry in 2001. His acquittal was confirmed by an appeals court in April.
Portillo was a member of the Guatemalan Republican Front, a party founded by former dictator Efrain Rios Montt, who faces a new trial after the nation's top court threw out his genocide conviction this week.
"What they did was inhuman because the former president's life was put at risk," Mario Estrada, a losing candidate in the 2011 presidential election, said as he stood with other supporters outside the air base. "They kidnapped him from the hospital to take him away."

Load more