The first drug to suc­cess­fully ex­tend the life­span of nor­mal lab mice al­so does so in a way that pro­longs their healthy ex­ist­ence, ac­cord­ing to a new stu­dy.
Re­search­ers hope the drug, ra­pa­my­cin, may al­so serve to pro­long life and ward off aging-related dis­eases in people, especially as it's al­ready tested and ap­proved for an­other hu­man use: to pre­vent trans­plant re­jec­tion.
But obstacles remain before any hu­man use of ra­pa­my­cin as a longevity boost­er. It's un­clear what dosages and reg­i­mens might be required for such a pur­pose. Con­cerns about side ef­fects linger. And mouse stud­ies have used a spe­cial encap­sula­tion method that's not cur­rent­ly used in human con­sump­tion of the drug.
A biotech firm has sprung up in San An­to­nio, Tex­as in hopes of ex­ploit­ing new com­mer­cial pos­si­bil­i­ties for ra­pa­my­cin, and its of­fi­cials have said that clin­i­cal tri­als are ex­pected soon.
In the new stu­dy, mice were fed ra­pa­my­cin as part of their di­et start­ing when they were 19 months—the equiv­a­lent of about 60 hu­man years—old. The meas­ured life­span in­creases were more mod­est than in some pre­vi­ous stud­ies. Com­pared to un­treated mice, the life­span of the treated ro­dents went up by about 3 per­cent on av­er­age, al­though the dif­fer­ence rose to 7 per­cent for mice who made it to old­er ages to beg­in with.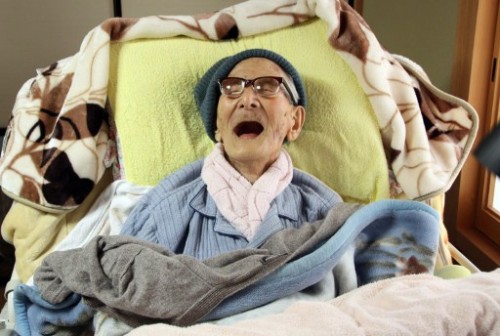 Pre­vi­ous stud­ies had yielded more dra­mat­ic re­sults.
A study in the July 2009 is­sue of Na­ture, us­ing a si­m­i­lar meth­od­ol­o­gy but dif­fer­ent mouse strains, had found in­creases as high as about 10.5 per­cent for old­er mice on ra­pa­my­cin com­pared to un­treated. An­oth­er piece of re­search found that if treat­ment was started when the mice were about half as old, then the av­er­age sur­viv­al in­crease jumped to about 14 per­cent. That study ap­peared in the Feb­ru­ary 2011 is­sue of The Jour­nals of Ger­on­tol­o­gy: Bi­o­log­i­cal Sci­ences.
The new stu­dy, in the May 16 on­line edi­tion of the same jour­nal, fo­cused on the health ef­fects in ad­di­tion to the life­span ef­fects. "Whether the life-ex­tending ef­fects of ra­pa­my­cin treat­ment are re­flected in ex­tended health has not yet been ex­ten­sively in­ves­ti­gat­ed," wrote the au­thors, re­search­ers with the Uni­vers­ity of Tex­as Health Sci­ence Cen­ter at San An­to­nio.
The au­thors in­clud­ed scientists who have li­censed ra­pa­my­cin-related tech­nolo­gies to the biotech company, Ra­pa­my­cin Hold­ings Inc.
They al­so wrote that they in­ves­t­i­gated the health ef­fects in great­er de­tail be­cause "in­creas­ing life span with­out sim­ul­ta­ne­ously in­creas­ing health span is a fool's er­rand." They found that treat­ed mice enjoyed health ben­e­fits in­clud­ing in­creased stride length and bet­ter re­sults on a test of en­dur­ance.
Rapamycin's lifespan bene­fits to mice have tended to be greater for fe­males, which received life­span boosts up to 80 per­cent greater than the males depending on the stu­dy.
The in­ves­ti­ga­tors in the new study used ra­pa­my­cin that had been "mi­cro­en­cap­su­lated" by a spe­cial meth­od in or­der to re­sist de­grada­t­ion when mixed with the ro­dent chow. This is­n't the same way ra­pa­my­cin, a pre­scrip­tion drug, is nor­mally tak­en in hu­man clin­i­cal use, al­though it is tak­en oral­ly.
Ra­pamycin is thought to ex­ert its ef­fects on life­span by sup­pressing the ac­ti­vity of a chem­i­cal path­way in the body known as mTOR, which helps to gov­ern growth and sur­viv­al re­sponses in cells.
Ra­pamycin al­so helps pre­vent trans­plant re­jec­tion by blocking cer­tain im­mune sys­tem cells, lead­ing to con­cerns of harm­ful im­mune-sup­pressing side ef­fects. But these have not proved prob­le­matic in the mouse stud­ies, ac­cord­ing to scien­tists.
Very few sub­stances have been found to re­liably pro­long life­span in lab an­i­mals. Be­fore ra­pamycin, the one con­sid­ered per­haps most prom­is­ing was res­ver­a­trol, found to ex­tend life­span in round­worms, yeast and cer­tain fish. But such ben­e­fits in lab mice, seen as an im­por­tant stepping-stone to­ward hu­man stud­ies, were re­ported only for mice that were obese.
Ra­pamycin is so named be­cause it was dis­cov­ered com­ing from soil bac­te­ria at East­er Is­land, al­so known as Rapa Nui.
.Culled from World Science

Load more