Elder statesman, Chief Edwin Clark who turned 86 on Saturday has slammed Nigerian leaders for their greed and selfishness noting that previous leaders were dedicated in their service to Nigeria.
At a media parley at his Abuja home, the elders statesman noted that Nigerian Presidents have become too powerful because of the constitution that the nation operates which enables any President who desires to exercise his powers to the full to easily become a dictator as the nation experienced in her recent past.
"From the civilian governments we had in the past, some of them were more dictatorial than others. So I believe if we have a constitution, which is a bit of parliamentary and presidential we can do better" he noted.
Commenting on the monster of corruption ravaging the nation, Chief Clark conceded that at the time he served as a federal commission and minister, that the issue of corruption was not as it is known today.
"Even though there was corruption then, it was minimal. There was nothing wrong with anyone working for government and getting favour out of that job. It was difficult to see one person amass such stupendous wealth the way we have today. People in political offices are thinking of themselves more that the country. When you think of yourself first, to take public money, it is bad. You see public officials taking 80 per cent of available resources for themselves and their families and leaving a mere 20 per cent for the rest of the people. That is why there is no development. I think the difference between leaders of those days and today is previous leaders were more patriotic and thought of the country before themselves".
Speaking further on the ethnic tone of politics in Nigeria, the former Information minister stated thus, "At that time, nobody was thinking about where you come from. There was no tribalism like now. In our little ward, in Warri, the urban district council was for everybody. The Igbos were elected chairmen. An Urhobo man was chairman in my place for 8 years. Ethnicity was not there. Come to regional level, Dr. Nnamdi Azikiwe was more popular in the west than in the eastern part where he hailed from, and he even won election in Yorubaland. Today, the westerners would have told him go to his state. Even your wife cannot contest election is her husband's place. That is pettiness in politics".
He berated current Nigerian political leaders for their insatiable greed and excessive love for money and pointed out that this transformed politics and political offices from being opportunities to serve into a purely business affair.
"In the past, money never played the kind of role it is playing in Nigerian politics today. Politics in Nigeria has become business. For example, some Legislators recently involved in bribe taking and are standing trial before the court are shamelessly going about as if there is nothing wrong in what they had done. Nationality feeling was very strong in those days than what we see today".
He advocated for persons desirous of becoming ministers to go through elections as is done in Britain and some other countries.
"It is not the choice of the prime minister or the President that becomes a minister. Now, people are appointed ministers; even without the people he will represent knowing anything about him, that's why they are not accountable to the people. Most of the ministers today don't even know how elections were held or conducted, they did not participate but are appointed ministers in the name of being a technocrat or nominated by a governor.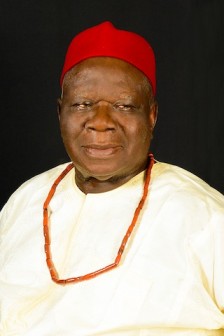 "Some presidents brought their commissioners to come and become ministers in Nigeria. If somebody participated in an election and wins and you appoint him a minister, he is not only responsible to the president or his government but also to his own people. He must be visiting home otherwise; you will lose the seat the following election. I think that is one thing I will recommend for Nigeria. In my years I have seen it work. In 1960 if you are going to be a minister, you must be elected as a member of the parliament first. Then if you are appointed a minister, you resign. The PM was in a position to fire anybody. The constitution provided for firing. You do not have to go back to the House because you have resigned and that shows a lot of discipline. You will not be able to steal people's money as they steal today. These days, within two or three years, a ministers build houses everywhere, have companies of their own, award contracts to them, while the ordinary people are crying and complaining. So if a minister has some sort of checks and balances, because he has gone through elections before he becomes a minister, he would be more responsible"
Clark also took a swipe at the judiciary today which he said cannot be compared to the judiciary of the 1st Republic or the judiciary during the military era.
According to him, "Judiciary then was strict, incorruptible and dignified. The lawyers were also dignified not like today where a lawyer is holding a brief for both sides. Today those who became SAN no longer look like SAN again. They do not consider the welfare of young lawyers again. They pay them small money and go about buying private jets. Today, you become a SAN if you know people but before you work for it".
He berated the judge who dismissed the 107 count charge slammed against former Delta state governor, James Ibori, who later confessed before a London court of the same charge that the Nigerian judge freed him of.
"Is Ibori not serving jail term in England now? He admitted guilt in England but here he was freed"

Load more