JETHRO IBILEKE/Warri
Governor Emmanuel Uduaghan of Nigeria's Delta State has described as mischievous and wicked, rumours that he died during his recent illness.
Uduaghan who said this Sunday at the Inter-denominational thanksgiving service to mark the 2013 Democracy Day and 2nd Anniversary of his administration held at the Flock of Christ Mission, Warri, urged Deltans to shun destructive rumours.
He noted that the rumour of his death was rife, when he only had a health challenge recently and rather than pray for his quick recovery, some persons were wishing him dead and were planning to buy a casket for his burial.
"As Deltans, let us do away with hatred. We should shun ethnic hatred; hatred will lead us to no where, but destruction. There is too much hatred for one another in the state and too much rumour mongering. Rumour came recently that I have passed away and many people were happy about the news. I can be sick because I am a human being.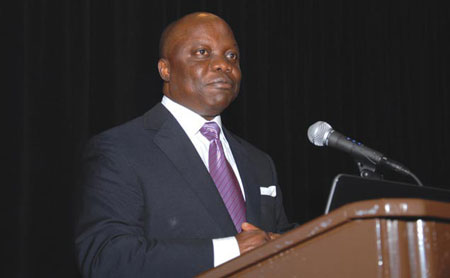 "I actually had a health challenge recently. But I am alright now; I spent three days in Abuja over my health. People were spreading rumour that I was dead and they were ready to buy a casket for my burial. But you can see I have conquered the fear of death. There is so much rumour in our state and it is unfair to spread all types of rumour. If people are sick, we should pray for their recovery and not to wish them dead."
"We must stop spreading dangerous rumours; they are destructive rumours, they do not build the society, they destroy society and that is why I am urging all Deltans on the need to live in unity and Deltans should help my administration to finish strong. Pray for us to succeed," he added.
The governor who also admitted that he had stormy elections, praised Rev. Simeon Okah of Flock of Christ Mission for his prayers and support both for his elections and his health.
Uduaghan who had earlier read the first scripture from Zachariah 4:1-14 said that; "We had stormy elections in the state and Rev. Okah supported us greatly and he was even prosecuted for being on my side. After the elections, he challenged me on education, agriculture and other issues. I want to say that we are determined to remain strong. We are doing more in area of education. We are finishing strong in several areas but not in agriculture. But we will do something to finish strong in agriculture."
On security challenges, Governor Uduaghan said; "We are being proactive in security challenges, especially kidnapping. We are destroying places where kidnappers stay and where they keep their victims. We are also chasing the native doctors assisting kidnappers. We have jailed many kidnappers and I must commend the judiciary for their support in the war against kidnappers. The judiciary has tried in this aspect and we are winning the war against kidnappers. We still have some challenges but we shall overcome them."
The governor commended Deltans for their understanding on the recent ban on the use of okada in some parts of the state, adding that, "we are not being wicked by banning okada, but trying to create a peaceful state for all and rid the state of criminals. We are trying to finish strong in all that we are doing. I want to thank our royal father for embracing Christianity. Most of our royal fathers are now inviting men of God to their Palaces for prayers. Embracing Christ by royal fathers means that there is hope. I want to urge all royal fathers in the state to embrace Christ."
He urged all Nigerians to pray for President Goodluck Jonathan as he tackles Boko Haram and other national problems, adding that "we are all potential victims of Boko Haram and this is why we must support the President to win this war."
In his message, Rev. Okah said man was created in the image of God, adding that for that alone man should be thankful to God, stressing that, "we must love each other and be united as a state and together we shall make it as a state. We should continue to pray for the Governor of the state for him to deliver on his promises."

Load more