Dana Airline has paid $3.95million in compensation to the families of the victims of its plane crash a year ago, in Iju, a suburb of Lagos.
Eleven families of the victims of the 3 June 2012 crash have received full compensation, the airline management said.
Mr Tony Usidiamen, the airline's spokesman, said the 11 families have received full compensation of 100,000 U.S. dollars each while 95 others received an initial 30,000 U.S. dollars each, making a total of $3.95 million
He said they all received the compensation as at May 25.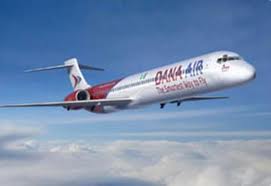 One hundred and fifty three passengers, including crew members, and six residents of the area died in the crash.
Besides, properties worth millions of naira were destroyed.
Usiadiamen, flanked by Mr Sam Ogbogoro, the Media Relations Officer of the airline and Mr Obialor Mbanuzor, the Head of its Commercial Services Unit, said compensation would be paid to all victims provided they had valid document to back up their claims.
He added that the families of 20 other victims had submitted their letters of administration from the Probate Registry of Lagos State High Court.
"The letters will be verified by the airline's insurance firm, the Lyodds Insurance Company of London, for payment.
"However, eight families did not submit any claim in respect of their lost family members; they may file their claims later," he said.
He expressed appreciation to Gov. Babatunde Fashola of Lagos State who waived the 10 per cent that should have been paid to the state for damages. On those who lost properties to the crash, Usidiamen said they had been paid the initial US S 30,000 U.S. dollars by Prestige Insurance.
According to him, the claims submitted by them have been sent to estate valuers for evaluation.
"Their claims are being evaluated because the law did not stipulate what should be paid to those who lost their properties on ground," he said.
Usidiamen added that there were plans to unveil a cenotaph at the site of the crash on June 3. According to him, other activities for the commemoration include a jumat service at the Lagos State secretariat mosque on May 31 and a mass at St Leo's Catholic Church on June 2.
"There will also be a memorial procession from the Murtala Muhammed Airport Domestic Terminal 2 to the Nigerian Civil Aviation Authority Annex on June 3," he said.
Mbanuzor said 65 families of the victims had gone to court over the claims, adding that compensation would be paid to them after judgment on the matter.

Load more