Just like their Nigerian counterparts, Kenyan lawmakers have voted themselves a pay rise, overturning cuts ordered by the national salaries commission and reinstating their hefty salaries, some of the best in the world.
Their tax-free monthly salary in the previous parliament was cut by almost 40 percent by the government's Salaries and Remuneration Commission to around 532,000 shillings, around 6,200 dollars (4,800 euros).
But on Tuesday, lawmakers shrugged off the commission's orders — and defied pleas from President Uhuru Kenyatta — to boost their pay back to 851,000 shillings, around 10,000 dollars (7,700 euros).
The new pay however is modest compared with the obscene one Nigerian lawmakers appropriated for themselves, in terms of allowances. Under their pay structure, a Nigerian lawmaker in the Senate can take home about N40million a quarter, apart from the monthly wage officially approved.
The pay hike by Kenya's parliament is one of the first actions taken by lawmakers, elected on March 4, and puts their salaries at around a hundred times that of the basic minimum wage.
Earlier efforts sparked public protests, but lawmakers said they were right to boost their pay.
"We are not greedy at all … no one has powers to slash our pay without our authority," said William Cheptumo as he presented the motion, which was overwhelmingly passed.
Lawmakers said the commission — set up in 2011 as part of Kenya's new constitution — had not followed proper rules.
"We are lawmakers and must be respected," said parliamentarian Mithika Linturi, saying the commission has "no authority to set our salaries."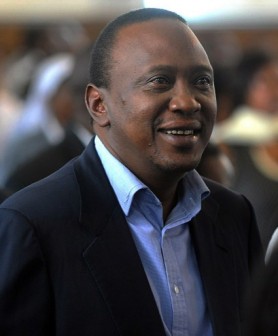 Earlier this month demonstrators staged a dramatic "greedy pig" protest outside parliament, releasing piglets and pouring blood on the pavement to protest at the proposed wage hike.
The number of MPs in parliament also rose from 222 to 350 after new constituencies were created, making the reinstated salaries an extra burden on the taxpayer.
In January, lawmakers voted themselves each a $107,000 send-off bonus — their last work before parliament closed ahead of elections — after earlier efforts to grant themselves the windfall were vetoed by the then President Mwai Kibaki.
That effort too was blocked.
Tuesday's vote also came amid a nationwide power blackout sparked by a transmission line failure.

Load more