Seven Dutch teens and a father went on trial Wednesday charged with kicking to death an amateur football linesman last year, a killing that sent shockwaves around the Netherlands and the world.
Linesman Richard Nieuwenhuizen, 41, was allegedly kicked several times in the head by enraged youth players shortly after the final whistle at an amateur game in December.
The linesman died shortly afterwards in hospital, leading to much soul-searching in the football-mad Netherlands, while the teenaged boys and one of their fathers were charged with manslaughter.
Prosecutor Joost Zeilstra told the court: "All eight are suspected of being accomplices in Robert Nieuwenhuizen's manslaughter."
"He was kicked in the head, neck and body, resulting in death."
"This business has really affected the Netherlands because someone was beaten up on a football field, somewhere you normally go to have fun," said prosecution spokeswoman Jetty Bult.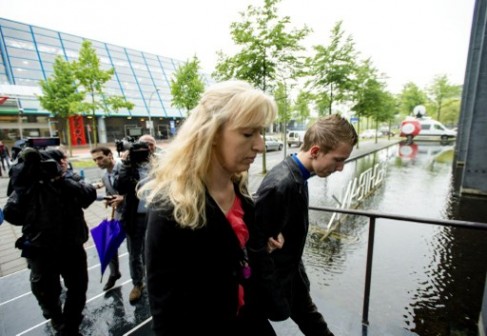 "Five days of hearings are planned, which is fairly exceptional. But this is a complicated affair, there are lots of suspects and it's about establishing what happened very quickly, in a minute, based on testimony," she said.
Most of the accused teens' parents were in court, with journalists only allowed to follow proceedings from a video screen next door because of the age of most of the defendants.
Nieuwenhuizen's widow and one of their sons had arrived at the court arm-in-arm, declining to speak to journalists.
A renowned British pathologist testified for the defence that the victim may have died of other causes, including a spontaneous, fatal tear in his carotid artery, which delivers blood to the brain through the neck.
Christopher Milroy, a former chief forensic pathologist in Britain who is now a forensic pathology professor at Ottawa University in Canada, found an anomaly in the artery that in rare cases could lead to death.
Milroy is one of four expert witnesses — two requested by the defence and two for the prosecution — to take the stand on Wednesday.
The experts disagreed on the likelihood that the anomaly, which has only been known about for a few years and affects one or two people in 100,000, could have killed Nieuwenhuizen.
However, the anomaly can only be noted through a genetic analysis of the corpse, which is not authorised in Dutch courts.
The Dutch Forensic Institute (NFI), which conducted part of the autopsy, concluded in its report that it was "highly likely that the linesman died of kicks to the head and neck" during the December 2 assault, the NRC newspaper reported.
The seven youths and one man, identified only as El-Hasan D., 51, were subsequently arrested and charged.
The youths and El-Hasan are charged with manslaughter, public violence and brutality. Six youths, aged between 16 and 17 at the time, as well as El-Hasan, have been held in custody pending the hearing while a seventh teenager, aged 15, was freed but faces similar charges.
All eight are connected to, or are members of, the Nieuw Sloten football club, which played against Nieuwenhuizen's Buitenboys Club in Almere, just east of Amsterdam, when the attack occurred.
Nieuwenhuizen officiated as a linesman in the under-17 match, in which his own son also played, and was set upon immediately after by members of the Nieuw Sloten club. He was allegedly kicked several times in the head but got up and went home.
He became ill a few hours later and died the following day in hospital with his family at his side.
The linesman's death horrified the Netherlands, where 1.2 million people out of a population of 16.5 million are members of the national football federation KNVB. Around the country signs were put up which read in Dutch: "Zonder respect geen voetbal" — "Without respect, no football".
Teams at the Club World Cup in Japan held a moment of silence in Nieuwenhuizen's memory before the tournament kicked off.
Should the teenage suspects be found guilty, they could face between one and two years behind bars in a special facility for minors.
The maximum punishment for homicide for adults is 15 years in jail.

Load more