Abiodun Onafuye/ Abeokuta
Governor Ibikunle Amosun of the western Nigerian state of Ogun today in a simulcast on the state-owned TV and radio stations reeled out the achievements recorded by his administration in the last two years, saying, "our dear state has witnessed a lot of transformation in all facets of its socio-economic life."
Though, there was no special celebration to mark the day declared by the central government as
Democracy Day, Governor Amosun thanked the people of the state for their support and cooperation.
On education, Amosun revealed that free textbooks, exercise books and other instructional materials distributed to all public Primary and Secondary schools students in the state gulped N3.2 billion, while 10,770 indigenes of the State
schooling in different parts of the world were awarded scholarship, grants and bursary with Law students getting N100,000 and primary school pupils with special needs got N10,000 each.
The health sector of the State, according to the governor, has witnessed tremendous turnaround as no fewer than 100 primary health centres across the State have been renovated and equipped for accessibility to the grassroots people.
"Because preventive medi-care is the target of the administration, health facilities were provided with necessary equipment and drugs, while the personnel underwent training and re-training", Amosun stated.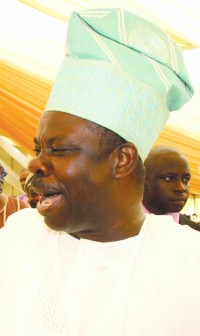 The governor revealed that "a few weeks ago, we took delivery of medical equipment worth $2 Million (USD) and we have started installing them in our public health facilities. To address the deficit in manpower in the health sector, we have recently employed additional 780 medical workers."
He agriculture has received a boost through resuscitation of farm settlement scheme which was started off with a Model Farm Estate in Owowo in Ewekoro local government area of the State. Two of such farms will be replicated in the remaining
two Senatorial Districts.
The fish farms at Ilaro, Odeda and Ikenne have been renovated and fish production has kicked off, besides Central Feeds depot at Kotopo aimed at stabilizing the cost of livestock feeds in the market.
Amosun ascribed the success achieved by his administration to the people of the State, saying "our people have taken all in good faith, the challenges associated with the rebuilding process going on in the State.
"Some had to lose lands, houses, shops, places of worship, and even homesteads. My dear good people of Ogun State, these are sacrifices we have to make not only for ourselves and our generation but to create a solid foundation for generations yet unborn", he said.
He, however, promised the people of the State that "we as government and I as a person will not take these sacrifices for granted. We will continue to work hard to ensure we deliver all the projects on time even as we will take measures to ameliorate the attendant and associated inconveniences."

Load more