President Goodluck Jonathan on Wednesday presented the mid-term report of his four-year agenda, with a call on critics of his administration to be objective.
Jonathan made the presentation on the occasion of the 2013 Democracy Day celebration held at the International Conference Centre, Abuja. He specifically condemned some sections of the media, which he said had rated the performance of his ministers, low without making open the criteria used in the assessment.
Jonathan called on Nigerians to use the 234-page document containing the mid-term report of the performance of his administration in assessing his government.
"Only on Monday, I looked through a particular publication, one of our dailies, which gave an assessment of the performance of ministers. The first thing I looked for that I did not see was the criteria they used to assess the performance of the ministers.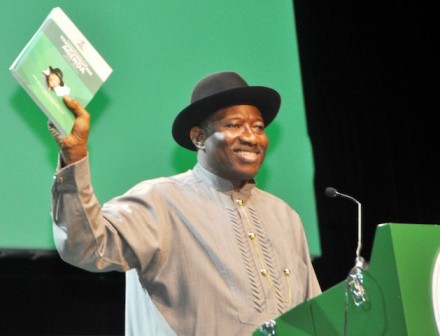 "As a teacher, I know that for you to mark a student's work, you must have a marking scheme, because assessment can be very subjective.''
Jonathan said the newspaper rated the ministries of Trade and Investments and National Planning, which performed creditably well, average.
He said that since 2007, the three ministers of National Planning and three ministers of Trade and Investments he had worked with, never did "what is being done today''.
The president also noted that in spite of "our security challenges'', many businessmen were interested in coming to do business with Nigeria.
He said the Ministry of Trade and Investments, which was `a dead end', `is now very active'', while Shamsudeen Usman has brought life to the Ministry of National Planning.
"But these two ministries were scored average, and I asked what the criteria are.''
Jonathan, therefore, pleaded with those who want to assess and write about his mid-term scorecard, to develop a criterion because "without a marking scheme you cannot mark anybody's paper''.
Earlier in a presentation, the Minister of Finance, Dr Ngozi Okonjo-Iweala, had said that in spite of challenges of inequality and inclusion, "the nation's economy is waxing strong''.
She said that the GDP had recorded significant growth, with the dollar exchange rate remaining stable at between N155 and N160.
Okonjo-Iweala said the rate of inflation had slowed to 9.1 per cent from 12.4 per cent in May 2011, while the external reserve had risen from 32.08 billion dollar in May 2011 to 48.4 billion in May 2013.
Specifically, she said the External Crude Account (ECA) rose from about four billion dollars in May 2011 to about nine billion dollar at the end of 2012 and 16 billion dollar in May 2013.
Okonjo-Iweala, who is also the coordinating minister, said the ECA had been of help in improving the economy since oil production fell from the projected 2.53 million bpd to between 2.1 million bpd and 2.2 million bpd.
The minister said that there were deliberate government policies to reduce recurrent expenditure and complete unfinished capital projects.
"Recurrent expenditure has dropped from 7.4 per cent of total budget in 2011 to 6.87 per cent in 2013.
"Government developed `Envelop System' to enable ministers to prioritise 600 uncompleted capital projects,'' she said.
The minister said government annual borrowing fell from N852 billion in 2011 to N588 billion in 2013, while debt to GDP is 21 per cent.
She said the administration's waiver and tariff policies had also changed positively, with government focusing on sectoral waivers such as agriculture, power, aircraft spare parts, solid minerals at zero duty.
"Trade has improved and exports are up in plastics and rubber, vegetable products, prepared food stuff and beverages,'' she said.
Okonjo-Iweala also said that exports increased from 9 per cent in 2008 to 31 per cent in 2012.
She said that with over 7 billion dollar foreign direct investment in 2012, Nigeria had become the highest investment destination in Africa.
Dignitaries present at the event included Senate President David Mark, Deputy Speaker of the House of Representatives Emeka Ihedioha and the Chief Justice of Nigeria, Justice Aloma Mukhtar.
Former Head of State Gen. Yakubu Gowon, former President Shehu Shagari, former Head of Interim National Government Ernest Shonekan and former Chief of General Staff, retired Gen. Oladipo Diya, were also in attendance. (NAN)

Load more