The phenomenal growth in Nigeria's gross domestic product, long used as a marker for the country's economic and human development, has been faulted by former President Olusegun Obasanjo.
In a speech in Dutse on Wednesday, Obasanjo said that Nigerians should not rely on the Gross Domestic Product rates as a basis for measuring the wellbeing of the populace.
According to Obasanjo, there is usually a disconnect between these GDP rates and the actual standard of living of the people. Nigeria's GDP growth rate has averaged about 7 per cent in past few years, but the people continue to groan under grueling economic hardship.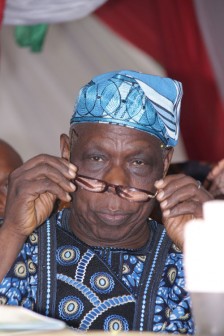 Obasanjo, speaking as the special guest of honour at the opening ceremony of the ongoing First Economic and Investment Summit in Jigawa State, said he would see more emphasis on the welfare of the people and the state of the economy should be driven by the amount of investments that are capable of creating employment.
"States should invest more in projects that will bring economic wealth for the people and states should be judged by the amount of investments that have improved the livelihood of the people, and not by the growth in GDP, as increase in GDP does not translate to actual wealth creation and wellbeing of the people." he said.
Obasanjo showered encomiums on Governor Sule Lamido for his development strides in Jigwa State in the six years under his stewardship.
He particularly noted the vast improvement in the infrastructural architecture of the state.
According to him, as a result of the governors hard work and commitment to the development of the state, the state which nobody wanted to visit is now a centre of attraction.
He cited the underground drainage system that is currently going on in the state and for other infrastructure being put in place.
He urged other state governments to invest in projects that would benefit Nigerians and in those products that could be legally exported to neighbouring countries.
"Nigeria is a land of opportunities and it is blessed with all it takes to develop; it has been stagnant for so long; it is about time to change these opportunities to actuality.
"There is no reason why we should not do that; we must invest in education to save the larger population of the country or else our population will become a liability," he said.
Obasanjo stressed the need for investments in the area of agriculture and tourism, and specifically mentioned sugar, rice and cassava as viable products for investment.
Nigeria, he said, had done pilot project on agriculture in Katsina and Kebbi States, which has started yielding results.
He also advised state governments to invest in tourism and train people who will be knowledgeable to narrate the history of Nigerians to the outside world.
The former president commended the governor for his vision, adding that he saw that vision long ago, hence he appointed him as one of his foreign ministers during his tenure.
He described Jigawa as a state with everything to attract businessmen to invest in it, adding that with purposeful leadership and high sense of commitment on the part of leaders, it would be easier for a government to achieve its aim socially, politically and economically.
Obasanjo said Governor Lamido had shown by his achievements in office that he was the right person to lead the state.
He said, "You people of Jigawa, once again, I congratulate you and I congratulate myself; because if you can say, yes, Obasanjo forced this one (Governor Lamido) on us, it is a good forcing.
"It comes to one thing that you will say, you can help anybody to find a job but you cannot help anybody to do the job. In this case, we found a job for Sule Lamido. Sule Lamido was ready, willing, able and competent to do the job."
.With online reports

Load more