by Yima Sen
There is a sharp and dangerous social divide developing in Nigeria today. On the surface it seems to be ethnic sectional or religious as it seems some elements of the elite desire. In reality, however, it is a division between a substantially thieving rich and a battered degraded, traumatized, oppressed and a subsequently corrupted poor. The present crises of militancy are related to youth bulge of poverty and unemployment. As a result, the ruination of Nigeria is endemic, ubiquitous and ingrained in the mind-sets of both the rich and the poor in Nigeria. A sort of totalistic disaster which we must reflect upon during this mid-term of the federal and state governments.
Make no mistake; Nigeria has many of the attributes of a failed state. The classical definition of a failed State is one that has failed to discharge its obligations to the citizenry. The question is, how has the Nigerian state fared in discharging its constitutional and normative duties, responsibilities and obligations, de jure and de facto, to the Nigerian citizenry? The answer is so obvious, we do not need a soothsayer or super- power to tell us that our state could fail, or has already failed and is dragging the society along with it, rich and poor.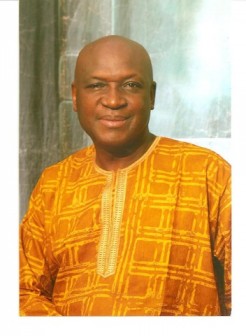 So should we abandon Nigeria or go with the rather assinine refrain that "Nigeria will break up" or "Nigeria will become history"? The point is that a break-up of Nigeria will never create better national or state entities. In fact some of them will be afflicted by worse maladies related to state and societal failure: 419, drug trade, cultism, armed robbery, kidnappings, crudeness, and a general march away from civilization, by any definition. In other words, we will get fragments of maldevelopment, degradation and retrogression.
What hope then? Two perspectives are illuminating. One, from Chinua Achebe and the second from Lee Kuan Yew. According to Achebe, one of Nigeria's and Africa's leading story tellers, in his non fiction work on the problem with Nigeria, it is leadership. So also says the Asian leader Yew: that leadership makes the difference under any circumstances.
As we fearfully approach the 2015 general elections in Nigeria, we are confronted with the harsh reality of reflecting on the leadership question. In these forthcoming elections, the political party that has dominated post-military leadership and politics in Nigeria since 1999, that is the People's Democratic Party (PDP), will face its first major challenge from an emerging All Progressives Congress (APC) or whatever it may turn out to be and face apparent and expected resistance from the PDP. From all indications, despite the commonality of the character of Nigerian politicians, there seems to be the possibility of the emergence of a rightish PDP and a leftish APC, at least in terms of ideology, manifestoes and policy promise.
However, in view of the Achebe – Yew thesis on leadership, it is the key, regardless of ideology, manifesto and policy. There are useful as organizing principles but the steersman " or navigator is extremely important. To this extent, the Nigerian President of Nigeria in 2015 must be a rallying point for the reunification of a divided Nigeria. All Nigerians, be they "Northerner"' or "Southerners", Muslims or Christians, Hausa – Fulani, Yoruba or Igbo, or Tiv, Ijaw, Kanuri, Ibibio – Efik, Nupe, Gwari, Itsekiri, Urhobo, Birom, Tarok, Bachama, and the rest of those 400 or so ethno-linguistic groups that make up Nigeria, must feel a sense of kinship with their President. The President of Nigeria cannot succeed if he or she becomes provincialized into ethnicity, region, section, religion or even gender. A state governor or local government chairman would similarly fail if he or she becomes encased in a cocoon of prejudice. Successful management of difference or diversity is a recipe for successful governance of the affairs of heterogeneous humanity.
Nigeria was never a mistake in 1914, because no single country on earth as we know the world today was perfectly manufactured by God and delivered onto this planet. Today's modern states all conceptually emerged after the Peace of Westphalia of 1648. The states of Africa were specifically the products of the Berlin Conference of 1884 – 1885.This is elementary history. So how has Nigeria become a mistake and South Africa, Ghana, Kenya, Somalia and Gambia as examples are not?
So the President of Nigeria, who should be the leader of Africa and the black race, must also be respected and recognized in Ghana, South Africa,Harlem, Brixton, Ethiopia, Egypt, Senegal, Congo Democratic Republic and all the 774 local government council areas in Nigeria, and of course in the rest of the world. Since this is also a job, he should at least have reasonably good university education, with well articulated views on national, continental or international life, over the years.
Perhaps, most importantly, he or she must reflect daily on the challenges that face the head of every family unit in a given day, and address those issues with seriousness. In addition, due to the present state of collapse or decay of Nigeria which is palpable even from driving conduct in the towns and country-side of Nigeria, the 2015 President of Nigeria must be an incorruptible rescuer, redeemer or restorer. To help further, here is a poor man's manifesto for him or her based on extant policy architecture and my 2010 Carleton University lecture which is online. It is contextualized within the offers of the United Nations Millennium Development Goals, the New Partnership for Africa's Development(NEPAD), President Yar'Adua's Seven Point Programme, and Vision 20: 2020.
One; Values, National Orientation and The Way The World Views Nigeria: these need a total reorientation from top-to-bottom and from bottom-up. Nigerians must change their world-view from a brutish state of mind to civility, love and respect for humankind. Corruption is damaging these and the mass media, families, schools, religious institutions and Nollywood need to be employed, among other interventions, to change things for the better.
Two; Good Governance and Democracy: these form the bedrock of modern public administration and the political empowerment of the citizenry. Without their solid establishment, no society can thrive or survive. Corruption is damaging these in the electoral, judicial and administrative facets of the polity. In addition to properly institutionalizing democracy, the public sector will be drastically overhauled.
Three; Poverty and Empowerment: these are also responsible for high corruption and criminality. Poverty which dehumanizes people, can be eradicated. Focusing on women, youth and elders, a civil society approach employing well – managed and properly funded development foundations in each state can tackle unemployment and poverty through self-employment and empowerment – thereby by-passing the profit-obsession of the private sector, and the strictures and corruption of the public sector..
Four; Food and Water are Basic to Human Survival and Existence. All-year-round agriculture, improved technology and seedlings and livestock breeds, adequate land access, good water supply and demand management are essential. Best practices from China, India, Mexico,Russia, Israel and other places will be adopted. Agriculture employs about 70 per cent of the labour force and contributes about 40 per cent to the Gross Domestic Product (GDP).
Five; Education and Human Development: these are key in transforming social capital into national wealth and human development. From the bottom, there must be free to some level and the rest affordable, as well as a demonstration primary school in each ward, a demonstration secondary school in each local government area council as well as a craft school. There must be a university in each senatorial district, public or private, to ensure that there are about 500 qualitative universities in Nigeria. There must be 20 Ivy League-standard universities, three in each of the six geo-political zones developed from the leading existing universities, as well as a national medical research university and the defense university already in existence. There shall be many interventions to manage quantity to produce quality.
Six; Transportation and Communication: these are key to mobility and human intercourse in modern society. The communication sector, including mass communication, will be improved while the transport sector will be revolutionized. Three wide-gauge rail lines and dual carriage freeways within the same corridors and bridge systems, north-to-south and east-to-west will be developed. Waterways, will be developed and transportation improved. All the state capitals and major cities will be linked to the major rail and road networks, and as feasible to the waterways. The existing narrow gauge railway system will be repaired for goods haulage only.
Seven; Land and Housing: these will be made user-friendly. Land speculation and corruption will be eliminated and residential housing costs totally devalued. These shall be massive high-quality Chinese-type housing schemes for low, medium and high income earners in 1000 towns or cities in Nigeria, certainly not the ugly and rickety structures being developed by certain concerns now. The cost of building will be drastically lowered through appropriate policy interventions.
Eight; Security and Health: these are indispensable to the well-being of the citizenry. Human security is social and protective, Both are related to poverty and empowerment. However, protective security can be tackled by improving the working and living conditions of security personnel, especially the police. Health can be substantially tackled through the use of preventive health –primary health (polyclinics in each ward of the the federation,a general hospital in each local government area (with mobile and tele clinic facilities) and a specialist hospital in each state. A national medical and research centre will be the apex medical advancement and excellence institution.
Nine; Energy: this concerns electricity and hydrocarbons. Electricity supply has been virtually destroyed by corruption and over centralization. Expansion and stabilization will involve thermal, coal, nuclear, solar, water and wood. The oil and gas sector has been simply infested with corruption and criminality, including negative community resource nationalism. This sector is the fifth highest contributor to GDP and accounts for more than 90 per cent of foreign exchange earnings.
Ten; Manufacturing and Industry: these involve creating a functional and productive economy. The underlying factors are provision of adequate infrastructure and services and a supportive policy framework. A non-manufacturing and non-industrialized economy is not a modern economy. Today this sector is the sixth contributor to Nigeria's GDP.
Is there anybody in Nigeria who can assiduously implement this ten- point programme as President? He or she could be a politician, professional, an activist, an academic, or a patriot with a responsible background. He or she should be mature, exposed, courageous and firm, even revolutionary. He or she should not hate some sections of Nigeria. He or she should know Nigeria, understand Africa and appreciate where the world is today. God, please give us this person as President of Nigeria in 2015. Amen
Yima Sen, former United Nations official and two-time Presidential aide in Nigeria, presently teaches in a private Nigerian university.
Like ·

Load more