Lola Omotayo, the heartthrob of Peter Okoye, one half of the P-Square music stars, tells BAYO ADETU on how her relationship with the musician started and her plan of being an actress
Many people got to know you when your relationship with Peter Okoye started. Who really is Lola Omotayo?
Simply put, what you see is what you get. I can't really define who I am per se, but I'm humble, caring, loving and a professional in the oil and gas profession. I take my work and family very seriously because they are very important to me, my family in particular.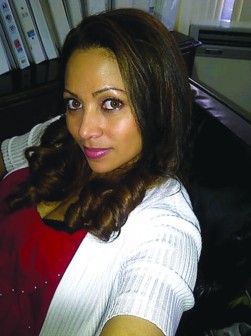 Can you summarise the journey of Lola Omotayo from a little child to who she is now?
The journey has been a very interesting one. My Dad is a Nigerian and my mother is a Russian. I was brought up in a household where both cultures are very important to my family. As a child, I went to boarding school where I learnt how to speak Yoruba. It wasn't one of those glamorous schools, it was in Ondo State. Basically, my father wanted me to have reality check of where I come from and what I need to aspire to be as an adult. From my mother's angle, she imbedded her own culture on us as well. She insisted that we speak Russia at home, and we speak Yoruba at home as well, so I got the best of both languages. Eventually in 1990, I went to the University of Ife for a short while to study Psychology, but Nigeria was in a terrible state then; universities were on strike and all that. So my father said 'why can't you come to America,' because he was working there then. So I applied to study Theatre and Film in San Francisco University, America. I wanted to focus more on directing because I didn't want to become an actress, but eventually life just took me through a journey and I started working for an I.T company there. That was how I started building my career before going into advertising. Many years later, I decided that I'm going to move to Nigeria, but before then, I did some interviews to ensure that I secure a job before coming here. I got a job with ECONET as their Events Manager. I worked there for over a year before Daily Times called me. The paper was trying to rebrand then and they have secured the service of Adrian Wood who was with MTN. I decided to join them because Adrian Wood was like my mentor. I joined Daily Times and gave it my all, but some top people there didn't really have their game correctly, so I had to find my way. I worked for an advertising company called FKG2 and spent about five years there. We did a lot of things and it was interesting, that was where I met Peter actually. One of our clients, British American Tobacco (BAT) and P-Square were doing something on Benson & Hedges then. We were on a road show together. I was still in the company when I gave birth to my son, but because the job was so demanding, I travel a lot and all that, I opted to work in my father's company, Nosco Oil & Gas, so that I can have time to take care of my baby. I joined as an executive director in order to bring fresh ideas to the company. It was a new terrain for me, but I learnt quickly.
Your heartthrob, Peter is quite successful, but you seem not to depend on his wealth. What's your driving force?
I believe that as a lady, you have to support your partner. You can't put everything on your partner; it is important to add value as well. Even though I'm not bringing as much as he brings to the table, at least, I'm adding value and making things a lot easier. Honestly, that's the way I was brought up; I can't rely on someone for everything. I have to be independent. I should be able to buy something for my kids without asking their father for money. I feel good as a person knowing that I can do things for myself, not that I want to feel above him in anyway, but I just feel it is important for me to add some value to his life as much as he adds to mine.
What advice do you have for Nigerian ladies who put all their financial burdens on their partner?
I think that is the core of our problems in this society because we put so much pressure on the man to take care of us, pay our bills…we put so much pressure on them, and that tempts some men to start doing some shady businesses. Women put too much pressure on men in this part of the world. Also, a lot of women are greedy and lazy, so they just want to get married and stop working. It doesn't mean women should go all out and work for the men, but somehow, you just have to make things easy for him. I see a lot of young ladies out there; it is not as if there are no jobs for them to do, the problem is that they don't want to do certain type of jobs, they want everything to come easy. I started the very hard way, I didn't start the easy way like people assume. I had to work myself up there because I had a vision. A lot of young ladies in Nigeria see people driving fancy cars; carrying fancy bags and assume that a man is supposed to do all of that for them, so they sell themselves in order to get it. But you don't have to do that. You can always find ways to make money legally.
Assuming you didn't come from a wealthy family, how would you have coped, considering the tight economic situation of the country?
I think it is still about family values. I came from a humble background; I didn't come from a very rich background. My parents worked really hard and I saw the care that they took to ensure that they instil the best on their kids, so I drew my strength from there. You have to fight for whatever you want; if it is education that will take you there, then, you have to go to school and ensure that you get the needed degree. And if you are creative, you can do other things, may be design clothes and all that. It doesn't have to be a big job. Dangote didn't start with millions of dollars, so you have to be focused and work on it gradually to get to where you are going. In fact, coming from a privileged background is difficult because it won't make you enjoy how life really is. For me, my father really threw me to the dogs; he wanted me to see how life was. He could have enrolled me to some fancy schools when I was growing up, but he wanted me to see how life is. He made me rub shoulders with people who had nothing. I have friends who came from rich background and today, they have nothing. I also have friends who came from poor homes and today they are doing well. It is about values and hard work.
Ironically, some Nigeria men don't like ladies who don't depend on them. How has that been between you and Peter?
I love Peter because he was never intimidated. When I met him, he was just trying to build himself and I was very proud of him. I have a lot of respect for him, his talent and I saw that he had a vision. Peter doesn't get intimidated by anything; in fact, he supports and encourages me all the time. I think he's happy that he doesn't have to do everything; he can rely on me that I will take care of our kids.
What actually attracted you to Peter?
Peter has drive. He has vision and pursues it. He doesn't let anybody distract him from that vision and that I saw in him, which a lot of people didn't see. Some people were like, 'what are you doing with a musician? Are you crazy?' but I saw something very different and unique about Peter. I saw the goals he set for himself and how he accomplished those goals step by step, and I was very impressed with that. I also saw that he wasn't a selfish person. He was a generous person from the outset, even though he didn't have much then, he was always generous. I like a man who is generous, not for the financial reason, but also to see how he can add value to other people's lives; that is very important to me. He is also a good listener; he listens to people, listens to me…those are the things that attracted me to Peter. He's an amazing guy.
How romantic is he?
Peter is very romantic as well. He does things that an average Nigerian guy will not do. There was a Valentine's Day that he came to my house with a guitar and played some love ballads for me. That was really cool and I loved it. Those are the little things that he does that really touched me.
How challenging is it to date a celebrity?
Having a relationship with a musician is one of the most challenging situations to be in. There are things you have to deal with; a lot of women, intruders, fans. You have to appreciate and respect the fans, but you also have some of them who are thinking of other things. I think it's one of the most challenging relationships one can have. You won't even spend much time with your partner because he's on the road most of the time doing shows and concerts; even during holidays like Christmas, Easter and New Year, they are not around. So I'm not really enjoying that part. But I thank God that we are managing it very well.
With your background in theatre arts, should we expect you in Nollywood soon?
No. it's not my thing anymore. May be I had the interest 10 years ago, but not now. But if I have to make films, it will be Yoruba movies.

Load more