Lagos State Governor, Mr. Babatunde Fashola (SAN), has rendered an account of his stewardship in the last six years in a live interview on Lagos Television, giving an assurance that the allocation of houses under the Lagos Home Ownership Mortgage Scheme (HOMS) would be done before the end of this year.
Governor Fashola said no fewer than 4,219 housing units, built in 12 locations across the State, would be ready for allocation.
The housing units, some of which have been completed, according to Governor Fashola, are located in Sangotedo with 540 units, Ogba with 270 units, Shitta with 36 units, Ilupeju with 60 units, Mushin with 73 units and Agbowa, Phase 1 and 2 with 660 units.
Others which are currently on-going include Ajara housing estate comprising 540 units, Ibeshe housing scheme comprising 720 units, Iponri comprising 144 units, Oyingbo, Phases 1 and 2 comprising about 48 units and 120 units respectively and Badia in Ijora comprising 1,008 units.
The four-man panel of interviewers comprised the former President of the Nigerian Guild of Editors, Mr. Gbenga Adefaye of the Vanguard Newspapers, Editor of the Sun Newspaper, Mr. Steve Nwosu and Ms Mauye Ogun of Channels Television, and Mr. Mohammed Fawehinmi, first son of late Lagos Lawyer, Mr. Gani Fawehinmi.
"Definitely, before this year is over, we will start the process of allocating the houses, I assure you about that".
According to Governor Fashola, who said the allocation would be by public draw, "We are almost done. What we are trying to avoid first is the need for anybody, any member of the public, to be a relation or friend of any member of Government in order to get a house. We want to eliminate that".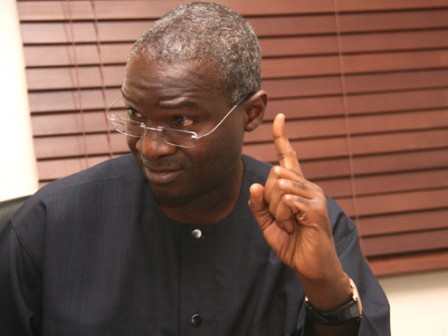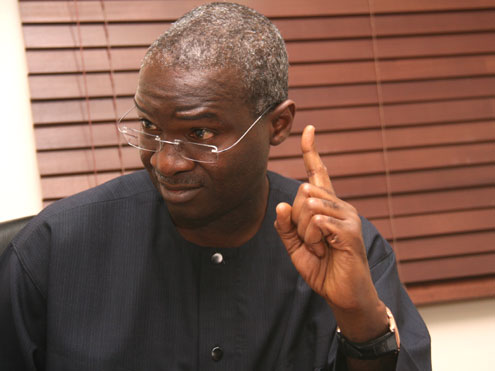 Giving an insight into some of the preparations for the commencement of allocation, the Governor further disclosed, "We have prepared forms, we have set up a Lagos Mortgage Board, we are recapitalizing Lagos Building and Investment Company (LBIC) to give mortgages, we have set up arbitration rules, we have gone through the mortgage document and so on and so forth. We have prepared the draw rules, it is going to happen by draws to be made public".
"We have set guidelines for those who would be eligible, those who pay their taxes, so it will not do to rush to go and pay the tax overnight because we built it with taxpayers' money. We expect that it is only fair that those who have been paying faithfully must get priority for something at this point", the Governor said.
On affordability, Governor Fashola explained that winners of the houses would be able to pay over a minimum of ten years after paying 30 percent as equity of the value of the houses they chose
"Affordability is that we will not ask you to pay cash once and for all. You will pay over a minimum of ten years if you deposit 30 percent as your equity of the value of the house that you choose", the Governor said adding, "The sense of affordability is that, as I have always said, there is no low cost cement sold to government, there is no low cost iron rod. We borrow at the same interest rate, our contractors charge us the import duties and all of the cost attendants of bringing in the raw materials to build the houses".
The Governor further explained, "Once you pay 30 percent of the type of house that you choose after you have been counseled before the draws, then we expect you to pay monthly. We don't expect you to spend all your income on housing, so we don't expect you to pay more than 30 – 33 percent of your income monthly. So your income must march the house that you choose".
Governor Fashola paid glowing tribute to first civilian Governor of the State, Alhaji Lateef Jakande, for his achievements in housing in the State expressing regrets, however, that he did not stay long enough to institutionalize the process.
"Every government after him has tried to achieve or recreate that feat. So, for us, it has been done before. What is missing now is institutionalizing it. So the skills to build houses are there. And that is why we are accumulating this stock of houses. But we want to make it so reliable and institutionalized that no government after us has to start from where we started again. They should be able to continue from where we stopped", the Governor said.
Pointing out that even in the most prosperous nations of the world not everybody can afford a home, Governor Fashola, however, said his administration wants to start first from those in the working class, traders who earn income. "Generally, people who have monthly or periodic income who desire to have a home should be able to get into the system", he said.
On accountability, Governor Fashola said his administration, from inception, has explored all legitimate platforms to make the government accountable to the people, citing the 100-Day outings, the publication of the phone numbers and e-mail addresses of all members of his Cabinet as well as the Town Hall meetings as some of the platforms established by his administration to account to the citizens.
"From the very first 100 days when we were under a lot of pressure to explain what we were doing, I committed as Governor that this will not be an event of show and since then we have used that as a vehicle to make ourselves accessible, responsible and, I must say, we have never failed to do so every 100 days", the Governor said adding that the 2,200 Day in office would be held on the 6th of June, 2013.
Other avenues created for accountability, the Governor said, include the use of the Social Media and the House of Assembly subjecting every piece of legislation to public hearing before it is passed into law as well as the Freedom of Information Bill which is currently pending in the Lagos House of Assembly.
Governor Fashola debunked any slowdown on project execution by his administration, explaining that Government is indeed executing projects in almost all local government areas and small communities in the State and pointing out that delay in the completion of some projects across the State was largely as a result of court actions by citizens as well as change in macro-economic policies.
On flooding in Lagos, the Governor, who likened it to the Winter in Europe, advised Lagosians to see flooding as a seasonal thing for which they must be prepared every year.

Load more