A day after confirming that he will move to AS Monaco this summer, Colombian striker Radamel Falcao said on Saturday that his two years spent at Atletico Madrid have been "the best of my career so far."
"What we have achieved in these two seasons has been the stuff of dreams and has been unforgettable for me," the striker said in an interview with the Atletico website.
"I think these two years have been the best of my career so far."
Falcao moved to the Spanish capital from FC Porto in the summer of 2011, and has won three major titles in his time at the Vicente Calderon.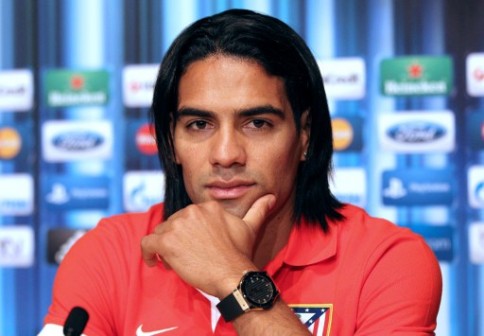 Atletico won the Europa League last season, beating Athletic Bilbao 3-0 in the final in Bucharest, before adding the UEFA Super Cup and the Copa del Rey in this campaign.
The latter trophy was secured thanks to a 2-1 victory in the final against Real Madrid at their own Santiago Bernabeu home.
"The first title, in Bucharest, was a challenge for me, to try and win a trophy that I also won the year before," said the 27-year-old, who scored the only goal when Porto beat Braga 1-0 in the 2011 Europa League final.
"It was a challenge for me to win it again, to not just settle for the fact that I had won it the previous year, and again be the leading scorer in the competition."
Falcao then scored a hat-trick when Atletico beat Chelsea 4-1 in the Super Cup at the start of this season, a game he described as "David versus Goliath" which was ironically played at Monaco's Stade Louis II.
Of the Copa del Rey final, in which Atletico beat their rivals Real Madrid for the first time in 14 years, Falcao said: "It is something that no Atletico supporter will forget. It will be remembered for generations."
Having agreed a five-year deal with Monaco, who will be returning to Ligue 1 next season after winning the Ligue 2 title, Falcao will play no part in Atletico's final match of the season in La Liga away to Zaragoza later on Saturday.
Instead, he will leave to team up with the Colombian national side to prepare for their 2014 World Cup qualifiers against Argentina on June 7 and Peru on June 11.

Load more