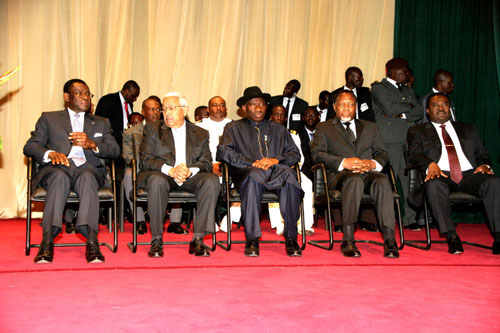 A panel of discussants at the just concluded meeting of the African Development Bank Annual in Marrakech, Morocco, has blamed the requirements for visa by Africans going to African nations, as a big cog in the economic integration of the continent.
Dr. Ibrahim Bocar Ba, ECOWAS Commissioner of macroeconomic policy, underlined that Africans mainly migrate to Africa.
In ECOWAS more than 80 per cent of all migration is intra-regional. Nonetheless, Africans need visas to go to 80 per cent African countries, these restrictions are higher for Africans traveling within Africa than for Europeans and North Americans.
In his opening remarks, Professor Ncube underlined that "The movement of talent and people is at the core of regional integration and is a core pillar of the Bank's Ten-Year Strategy. Twenty-five percent of all trade in Africa is informal; it is the strongest in West Africa. If there were no visa requirements, informal sector trading would boom."
Razia Khan, who is head of research in Africa for Standard Chartered Bank, introduced herself rather as a citizen of an African country, traveling extensively within Africa – who often measures the time that it takes to get visas against the amount of economic research that could have been developed.
Leonard Rugwabiza, Director, General Planning at the Ministry of Finance and Economic Planning in Rwanda, shared the lessons of Rwanda, which has moved to biometrix border management, low restrictions on transfer of services in engineering and legal services as well as visas on arrival for all African citizens since January 1, 2013. Rwanda, with a limited number of embassies abroad, has also introduced e-visas in order to reduce the costs and time constraints of people in obtaining visas. He confirms that "since we opened our borders, tourism from African countries has increased by 24%." Furthermore, "trade actually shifted from being oriented to Europe and North America, and is now oriented to neighbouring countries. Trade with neighbouring countries increased by 50% last year, and trade with neighbouring Democratic Republic of Congo rose by 73%".
Abdul Awl, Board Member of Dabashill Group, concluded that: "The private sector is the engine of growth, and we all talk about improving the climate for business sector. Visas are a major barrier, and pose restrictions on doing business."

Load more