Simon Ateba/Aviation correspondent
Relatives of the victims of the 3 June 2012 Dana plane crash are fighting over who should collect the $100,000 compensation and this is delaying payment, the Ministry of Aviation said on Sunday, a day to the first anniversary of the air disaster which claimed 157 lives in Iju-Ishaga area of Lagos, southwest Nigeria.
"The airline fully insured all passengers. The problem is about 20 families have been fully compensated. For the others there are family squabbles," said Dr. George Ossi, a permanent secretary in the Ministry of Aviation.
Ossi was at Saint Leo Catholic Church in Ikeja area of Lagos to represent the Minister of Aviation, Princess Stella Oduah, at a memorial service for the crash victims.
"Some (families) are in court. Some can't agree who will take the compensation. If they all had agreed, by now, we won't be talking about compensation," Ossi said.
However, he added,"the ministry is doing all it can to ensure that everyone gets what is due to him or her."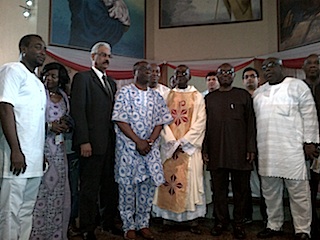 Dana Air last week said only eleven families have been fully compensated and 95 others have received initial compensation of $30,000 while more than sixty relatives have gone to court, including those who had collected initial compensation.
The bickering among family members over money makes it difficult for relatives to get the letter of administration from the Lagos State Ministry of Justice.
Ossi said the Lagos State Ministry of Justice had made the process easier but in-fighting among family members has complicated things.
He said he was sent to Lagos by the Minister of Aviation to show the human side of the Ministry and tell Nigerians that everything is being done to prevent future plane crashes.
"The ministry is taking all measures to prevent a future occurrence of what happened last year.
The memorial service was presided over by Msgr John Kanebi Asuquo Aniagwu, the vicar of Saint Leo Catholic Church.
Dana Air management and staff were present at the memorial service.
"There is no sacrifice to great to offer in memory or honour of all those who lost their lives in the Dana plane crash nearly a year ago. That's why we've come together in prayers because we believe there's no sacrifice greater than prayers," said Tony Usidamen, Dana Air Head of Corporate Communications.
"We can wish but we cannot bring them back. We can pray for the repose of their souls," Usidamen said.
To the families of the victims Usidamen said "they are not alone in this moment. Everyone of us at Dana Air and I believe most Nigerians are with them in prayers."
Dana aircraft, an MD-83, was minutes to the runway at the Murtala Muhammed Airport in Lagos when it crashed with 153 passengers on board.
Initial reports had also claimed that about ten persons perished on the ground. But Dana Air said last week that four identifiable people were killed when the fallen plane crashed into a residential area minutes after 3 p.m.

Load more