Taiwo Samson

Nigeria's Coach Stephen Keshi says the African champions have God on their side and will pick up the three points at the end of Wednesday's 2014 FIFA World Cup qualifying match against Kenya in Nairobi.
Keshi and his team surprised the continent by winning the Africa Cup of Nations in South Africa in February and Keshi believes the team still has divine support as they seek to reach the 2014 global showpiece in Brazil.
"I am not saying anything (about Wednesday's match) except to say that God is working with us and we will be prepared for this match. The focus is there and we have the determination to get a good result," said Eagles' coach.
Discountenanced by many before the Cup of Nations and rated nowhere near the likes of Elephants of Cote d'Ivoire and Ghana's Black Stars, Keshi's Eagles overcame an uninspiring start with focus and determination and swept to glory.
"We showed good stuff against Mexico despite missing a number of players and we will even be stronger in Nairobi. I am looking forward to three points on Wednesday," Keshi was quoted as saying in a statement by Ademola Olajire, Assistant Director (Media), Nigeria Football Federation on Sunday as the Nigerian delegation boarded the plane in Houston to fly back to Frankfurt, Germany.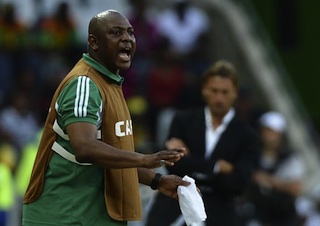 Keshi was clearly upbeat following his team's gutsy 2-2 draw with the Central American champions in a prestigious friendly on Friday.
In Frankfurt, influential midfielders John Mikel Obi and Fegor Ogude and Russia-based forward Ahmed Musa will join the squad for the flight to East Africa. The team are scheduled to fly aboard a Lufthansa Airline flight to Addis Ababa (Ethiopia) on Monday night, before connecting an Ethiopian Airline flight to Nairobi, arriving in the Kenyan capital in the early hours of Tuesday.
The NFF has been working assiduously with the High Commission of Nigeria in Nairobi to monitor arrangements and possible schemes by the hosts, and an NFF advance party flew into the Kenyan capital on Sunday morning.
Nigeria's High Commissioner to Kenya, Ambassador Akin Oyateru, is scheduled to fly back into Nairobi on Sunday evening from official assignment abroad.

Load more