NKRUMAH BANKONG-OBI
Nobel laureate, Professor Wole Soyinka's childhood memoir, Ake, The Years of Childhood is to be adapted into a film.
A Lagos-based film production outfit, Back Page Production is handling the project.
Dapo Adeniyi, the executive producer of the project, said work will begin in June this year.
Professor Soyinka has also met with the cast and crew of the movie, which will be shot in locations across Lagos, Abeokuta and Ibadan respectively.
The meeting was inspiring to the cast as Soyinka exchanged views with the artistes on the text and the project.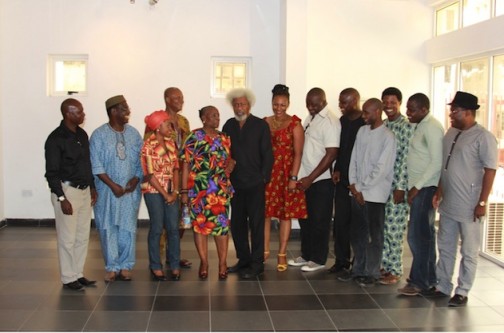 Present at the meeting were renowned Nigerian movie industry practitioners such as Taiwo Ajayi-Lycet, Akin Lewis, Tina Mba, Ben
Tomoloju, Yinka Davies, Tony Umole, Yeni Kuti, Jimi Solanke, Jahman Anikulapo and Beautiful Nubia.
Also in attendance were the film's crew led by Dapo Adeniyi, the executive producer, Yemi Akintokun, the director, Ayodele Ayobolu head of marketing and Kemi Obadina head of communications of Back Page Productions.
The film is set in the 1930s and 1940s and aims to recreate that period through restored locations and the automobiles of the period.
One of the leading characters, Mrs. Olufunmilayo Ransome-Kuti is reputed to be the first woman in Nigeria to drive a car.
Nigeria's history is also at the fore in the Ake film, especially the Egba Women's Riots of 1945 led by Mrs. Kuti, who incidentally was Professor Soyinka's aunt and mother of the late Afrobeat musician Fela Kuti, as well as Soyinka's own mother, Eniola Soyinka.
The riot climaxed with the famed deposition of the Alake of Egbaland, the abolition of the poll tax on Nigerian women and the institution of the universal adult suffrage.
The movie will be premiered in 2014 to mark the 100th anniversary of the Nigerian amalgamation and the 80th birthday celebration of Professor Soyinka.
Ake, a personal story of Professor Soyinka's childhood was first published in 1981.

Load more