At 100 metres high, one can see the hotel from anywhere on Victoria Island. The recently opened hotel stands tall above the skyline of the island, and is an architectural wonder on Kofo Abayomi Street, Victoria Island.
With the influx of global brands like Intercontinental Hotel it is expected that there would be a turnaround for the hospitality business in Lagos and Nigeria at large. The global Intercontinental Hotel brand comes in with the needed difference that will benchmark standard in the industry.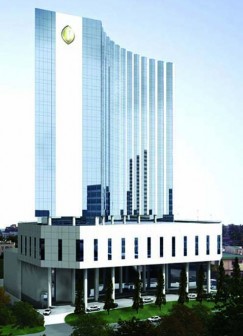 Acquiring the coveted title of West Africa's tallest hotel, the 23-storey property is another addition to the brand's global luxury portfolio. Known throughout the world for its awe-inspiring architecture, the hotel's towers have already become an icon on the city's skyline, on which Milan Group, the owning company, said it spent about $80 million.
"Lagos is an important destination for The Intercontinental Hotel as one of the world's most exciting cities offering world-class facilities and infrastructure, central location in the region and future growth potential," said Didier Coein, General Manager, Intercontinental, Lagos.
"Our expanding collection of world-class Intercontinental hotels offers accomplished travellers a one-of-a-kind luxury experience. The investment in this unique and visually stunning hotel is a testament to the continued opportunities that lie ahead for the brand and company."
According to Front Office Manager, Mr Mohammed Tanko, "With 23 floors, Intercontinental Lagos is the tallest hotel in West Africa, boasting 358 rooms, 37 suites and a Presidential suite. All rooms boast of stunning views of either the Lagos creek or the Atlantic Ocean.
With Intercontinental's 358 rooms, there is a massive increase in the total room supply in Lagos. The rate crashing war was introduced by South African brands, especially Southern Sun and Protea, to give rivals a run for their money.
For the Rezidor Group Hotel, trademark owner of Radisson Blu, the opening of Radisson Blu Anchorage Hotel, situated on Ozumba Mbadiwe Street, Victoria Island, Lagos and the group's soon-to-open hotel in Abuja both represent no less than $50 million investment each in the Nigerian hospitality sector.
Starwood Group's Four Point By Sheraton Lekki and the unbranded hotels such as the Lagos Oriental Hotel, Eko Hotel and Suites among others, are multimillion dollar investments that have also brightened the outlook of the Nigerian hospitality sector.
The hotel is the first in Nigeria that is able to accommodate large groups and will play a key role in attracting major conventions and events to the destination.  Along with cutting-edge business facilities, the InterContinental Hotels features more than 7,500 square metres of indoor and outdoor event space, including two ballrooms and a large selection of world-class dining and entertainment options.
So far, some hospitality analysts are figuring out stability of government, favourable tax policy, cheap labour, expansion drive as being top among the reasons investment in the hospitality industry is fast growing.
Ikechi Uko, publisher, ATQ Magazine, organiser of Akwaaba African Travel Market, says "Nigeria has proven to be a fertile ground for hospitality investment because of the growing business volume in the country. The sector is growing because more people visit Nigeria now for both business and leisure, and almost all the major airlines operate delay flights in and out of Lagos, everyday. So, hotels have to open more doors to welcome these growing number of visitors."
—Daniel Ekugo

Load more