There was drama aplenty when Nigeria's Super Eagles arrived at the Jomo Kenyatta Airport, Nairobi, Kenya in the early hours of Tuesday.
Kickoff.com reports that Kenya officials who met the team at the airport insisted that the Eagles must take the bus provided for them, and head for the 680 Hotel booked by the FKF which Nigeria's advance party had turned down.
According to one Kenyan journalist at the airport, the FKF bus was a rickety contraption that looked like it belonged in a scrap yard.
"It was a small, old bus that wouldn't even have fit the players, let alone the entire travelling party."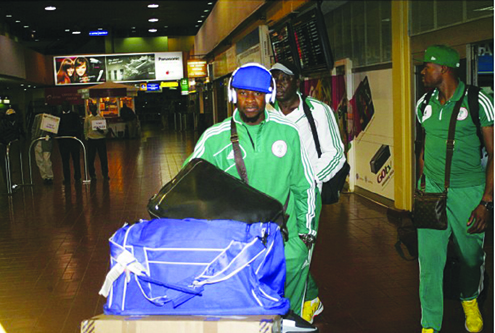 For 20 minutes, both sides argued back and forth, with players directed this way and that, until Nigeria coach Stephen Keshi stepped in to act as mediator, explaining to the FKF officials why the Eagles had a right to take their own luxury, air conditioned bus and head for their hotel of choice.
The FKF bus was then used to transport balls and luggage as the Nigerian contingent left without police escort, which only caught up with them along the way.
According to FKF Chief Executive Officer Michael Esakwa who received them at the airport, the Nigerian contingent of 34, 24 players and 10 officials jetted into the country at 1:40am and were duly given escort to their hotel.
"We really pleaded with them not to hustle for another hotel in the thick of the night but they totally rejected. We had even brought for them a bus but they rejected it and instead used it to put their luggage. We gave them security to their hotel and ensured that they were safe," Esakwa told Michezoafrika.com.
Meanwhile, the lack of an experienced striker in Harambee Stars' camp is giving Kenya coach Adel Amrouche a major headache ahead of the match against Eagles tomorrow.
2014 World Cup qualifier against Nigeria at the Moi International Sports Centre, Kasarani, Wednesday where at least 1,500 policemen will be on duty.
With skipper Dennis Oliech suspended, the tactician bemoaned the absence of Gor Mahia's prolific forwards Paul Kiongera and Rama Salim. Both are nursing injuries. "Kiongera is a great forward. I had planned to use him as the main striker. But he's unavailable. Rama's injury has further complicated matters," Amrouche said.
Kiongera has been out of action for two months through a knee injury.
The Belgian seemed to put blame on the Kenyan Premier League for its inability to mould "top class" strikers to take the mantle from Oliech who is approaching his sunset days.
The only notable out and out striker in camp is Thika United's Kennedy Otieno, but the youngster lacks the experience needed at the international stage.
The responsibility upfront will now be left on attacking midfielders Francis Kahata, Kepha Aswani and Johanna Omollo. "We have prepared well, the atmosphere in Naivasha was great. We will to give our 100 percent," Amrouche said.

Load more