As Nigerians Monday marked the anniversary of the crash of an aircraft belonging to Dana Air which resulted in the death of 157 people, a ground victim and businessman, Lawal Olatunji, recounted how the incident caused his blindness.
The father of two, who is now totally blind, also told P.M.NEWS that his pregnant wife suffered a miscarriage and almost died as a result of the crash.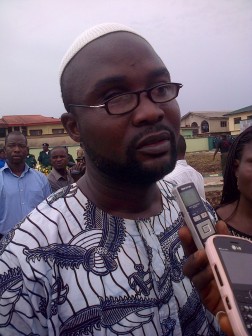 Olatunji lived a few metres away from the crash site at Popoola/Olaniyi Street, Off Toyin Bus Stop, Iju-Ishaga area of Lagos State, southwest Nigeria.
Governor Babatunde Fashola of Lagos State Monday commissioned a cenotaph that was built by the state in honour of the victims at the crash site.
"I was inside my house relaxing on that Sunday afternoon (3 June, 2012) when I heard the thunderous sound of the crashing aircraft and thick smoke engulfed the entire place. The smoke affected my sight and now I cannot see.
"Before that day I had a bad sight and wore glasses. But now, as I am talking to you, I can't see even with these glasses. It is just there to cover my eyes.
"My wife had a miscarriage and a lot of other things followed. The crash affected us in many ways but the post-trauma stress alone is incomparable. Now I can't go about my businesses again and life is not the same," he complained.
He said he was among those relocated from the area by the State Government till December last year when he got a house for himself.
He said he had made appeals to the state government for assistance but that had not materialised.
Olatunji also lamented that the management of Dana Air was not thinking about assisting the ground victims.
"They told us they don't owe us anything even though our lawyer has been trying to intervene for us.
"Where am I starting from? Is it my sight or the physical property or my wife that lost her pregnancy? Now I beg friends to get what to eat," he lamented.
He said he hopes to go to India for medical treatment if he gets any compensation.
—Eromosele Ebhomele

Load more