Primate Babatunde Elijah Ayodele, founder, INRI Evangelical Spiritual Church, Lagos, explains to FOLARIN ADEMOSU why his prophecies have been misconstrued and delivers an unflattering verdict on the church in Nigeria as well as the Christian Association of Nigeria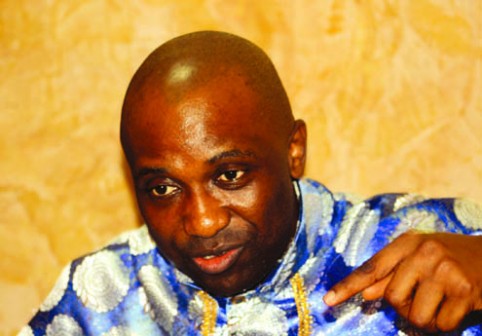 You said, in a recent public statement, that the country would break into six, whether Nigerians pray or not. Can you elaborate on that?  
I started by saying that there is nothing prayer cannot do. But I've seen that in the nearest future, which may be 30 or 40 years, Nigeria will cease to be a nation. It would break into six nations. That was why I said that even if they pray, it wouldn't work. The only way Nigerians would understand the situation better is when the much-touted sovereign national conference is held. I can tell you that the conference will still come up. The break-up will not be bloody and I must stress that only God can save Nigeria.
You also said the re-election bid of President Goodluck Jonathan is inimical to the country's unity. What exactly do you mean?
President Jonathan should seek the face of God before contesting in 2015. If he doesn't and forces himself on the country, his time will not be peaceful. The country will face economic, political and security challenges. Even our diplomatic relations with other countries will be strained. He would fail if he continues to rely on his political lieutenants. Also, I foresee the emergence of a new political party that will threaten PDP's dominance. The party I am talking about is not APC. Those ones are just wasting their time. President Jonathan is getting a lot of things wrong and his political miscalculations will cost him a lot towards the race to 2015. I repeat, he will not know peace, if he forces his way into power.
Many have wondered why your predictions are more of doom rather than hope or salvation for the affected individuals and the country. Are you not bothered that you may be labelled a prophet of doom?
I don't understand what you mean by saying that I am only prophesying doom. I am not a politician and not a political analyst. As the Lord says: 'He, who has ears, let him hear.' My prophecies are warnings and not threats. I am not sent to create panic, but to give warnings about impending doom. Anybody can say anything, I am not bothered. I would only be if I am not saying exactly what the Lord has revealed to me. So, I don't know what you mean by doom.
Many out there still believe that your prophecies are situational and that you possibly read the trends before saying anything. In other instances, they see your prophecies as mere counsel, since you would always advise that the said danger would be averted if the affected people pray. What is your reaction to this? 
I am hearing this for the first time. I don't read trends and only predict future occurrences. There is bound to be criticisms, though. I have a book, Warnings to the Nations, which I have been publishing since 1994. Besides, we usually compile our predictions a year earlier than when they are released. For instance, the 2013/2014 edition of the book, which contains events that will happen next year, is ready and will be out in July. My predictions are inspired by God and I don't just sit somewhere to compile them. The problem with Nigerians is that we don't want to hear the truth. Anybody who feels they are situational and not prophecies should compile his and let's see which one is inspired by God.
But even at that, many of your prophecies are directed toward the rich, powerful and famous in the society. Don't you see visions for the poor?
If I am somebody, who doesn't contribute anything to the society, how would a prophecy about me affect the fortunes or otherwise of a nation? The bible says: 'Pray for the peace of Jerusalem, may they be secure who love you.' Nigeria is my own Jerusalem and without any leader consulting me, it is my duty as a prophet of the Lord to commit this country and its leaders into the hands of God. I consider it a grace or privilege before God whenever he directs me to prophesy or pray for somebody in order for an impending danger to be averted. If the prophecy is not for President Jonathan, why should I say it is for him. When Jonathan was an ordinary lecturer, nobody reckoned with him. Would you as a journalist have been interested in him, when he was a lecturer? It is the same in this case. It is Jonathan's turn, we must let him know the visions God has revealed concerning him, as well as pray and urge him to pray for himself. My ministry and prophecies are not exclusively for the rich. Everybody is equal before God and God is everywhere. If he directs me to give a prophecy concerning, say, David Cameron in the United Kingdom, would you disbelieve me because I am a Nigerian? If God directs me to give a prophecy about a roadside pepper seller, would I say no because the person is poor? So, I work as the Lord directs. Are you saying I don't give prophecies concerning members of the church, including the youth, who are not all rich?
With the level of spirituality in Nigeria, with proliferation of churches, why haven't prayers healed Nigeria of the many problems affecting her?
The problem is the people in charge of our affairs. God told me that the national prayer they normally conduct is unacceptable to him. The kind of prayers we have in Nigeria is not  directed by God. We pray at our convenient time. If you declare white fasting now, you would hear people who would say, 'I have to do this, do that. Can't you help me to do it?' Just look at that. Instead of seeking the face of God and how to pray and what exactly to pray and fast for, we do things our own way. We pray for the wrong things and that is why God is not answering our prayers. If not for God, Nigeria would have collapsed. And this is one of the reasons I condemn the Christian Association of Nigeria, which is ineffective and used for the wrong purposes.
You once predicted that former Central Bank of Nigeria Governor, Charles Soludo, would win the Anambra State governorship election in 2010, but he didn't. Would you say the prophecy failed?
Thank you, so much. I must have been misquoted on that. What I said in my book was that the Peoples Democratic Party, PDP, wanted to take over Anambra State, but they would fail if the governor prayed very well. A prophecy is not a news report, but something that is amenable to different interpretations. A prophecy is not time-bound and if it doesn't happen at the time it was given, it doesn't mean it will still not happen.
During the travails of late President Umaru Yar'Adua, you predicted, and it was published in a national daily of 13 December 2009, that "God in His infinite mercies has had compassion on the president and reversed his death, just as he did to King Hezekiah of old in the Bible." But the man died. How do you react to that? 
Thank you very much. It was reported in a national daily (quoting the newspaper) of 19 February 2009 that I predicted that 'Umaru Yar'Adua should pray very well, otherwise he might not return to office'. When many Nigerians in January of that year were saying that Yar'Adua was dead, I came out to say he was still alive. Before his inauguration as President, I had predicted that Yar'Adua would not complete his term of office, but it elicited an outcry, whereby people started asking why I didn't pray for him, rather than saying he would not complete his term. We prayed and God answered. Later, it was revealed to me that he would still not finish his term, and I said so. So, from the dates – January, February and March – you can see that the prophecies had been sequential until his eventual death in May. Prophecies are continuous. For instance, God told John in the bible to tell the people that he would destroy them and the people began to pray. After a while, he sent John back to say that he had reverted. In the same book, where we published the death of President Yar'Adua, we said there would be a new government and it came to pass. Was it not the same God who told King Hezekiah that he would die, but later reverted it?
In the days of old, there was nothing like January to December calendar, but your prophecies come yearly, with predictions for each month. Can you cite a biblical authority for yearly predictions?
What happens is that every year, we fast and pray from January to March, after which God gives us the revelations to make prophecies, which are compiled in our yearly warnings to the nation. What happened in the days of old was that the Lord would tell what would happen at a particular time, while whoever was there at the time took note. According to Revelation 2 verse 7, the bible says: "He who has ears, let him hear." Also, in 2 Peter 1 verse 21, it says: 'For the prophecy came not in old time by the will of men, but holy men of God speak as they are moved by the Holy Ghost.' God told Daniel to take note of future happenings and that is why we publish Warnings to the Nation. The Lord can send any of his prophets to deliver a message and it the responsibility of the prophet to deliver it as the Lord says. If he did it half-heartedly, he would definitely face judgment.
Despite the level of religiousity in the country, corruption remains high. Pastors hardly condemn stealing by our political elite. Why are pastors reticent?
I must state that I don't fear anybody. I say what I have to say as I am directed by the Lord. I have said it before that there would be corruption in Nigeria that even the EFCC would not be allowed to operate as expected. Before we talk about corruption in the polity, let's focus on the Christian Association of Nigeria, CAN, which is in itself corrupt. There is corruption in CAN. It is unfortunate that despite the poverty in Christendom, where Christian youths are unemployed and are into cultism, CAN President, Ayo Oritsejafor, is more concerned about riding in a N4 billion private jet. He can spend the money he expended on the private jet on the needy in the society. Part of the corruption is where we have Mr. and Mrs. leading a church, with the pastor being the head and the wife, treasurer. We live in a society in which poverty is grinding. While it is okay for people, including pastors, to ride good cars or live well, flying around in private jets over the poor is nonsense. Go to churches on Sunday and you will find out many of the members of the congregation don't have any money. Some would even look out for people to either tell their problems or give them money. Besides, President Goodluck Jonathan can't fight corruption because the government he heads is corrupt. Moreso, they are using the power of darkness to rule the nation and that is why there is bloodshed everywhere. Very soon the hand of God will weigh heavily on corrupt leaders and those who keep stealing the country's money. Basically it is impossible for this government to handle the issue of corruption. How do you expect a pastor who is led by the spirit of money to preach against corruption? In summary, Nigeria needs prayers and CAN is not doing what it ought to do. Until this government turns to God and does his will, I don't see it enjoying any peace.
Old time missionaries set up schools, offering education for free, and carried out a host of humanitarian activities in their host communities. These days pastors own secondary schools and universities that most of their members can't afford to send their children to. How do you see this?
I don't have any problem with pastors setting up schools. In fact, I have such plans for my ministry as well. My church runs a humanitarian service for widows, orphans and the less privileged, whether Christians or Muslims. But many of the other churches who see things mainly from the commercial angle don't have the interest of the masses at heart. Perhaps, it is not part of their calling. In the olden days, people preferred missionary schools to government schools. Now, they wouldn't dare because they cannot afford them. Many of these pastors are concerned about themselves and not their followers. No pastor wants to pray that his followers would grow bigger than him because nowadays, pastors don't preach the kingdom of God. They also interpret the bible the way they like. That is even why many of them don't know how to give to the society. Let's give kudos to those who always remember and identify with the less privileged instead of criticising them.

Load more