Richard Mofe-Damijo, Delta State Commissioner for Culture and Tourism, tells ADEMOLA ADEGBAMIGBE, EROMOSELE EBHOMOLE and JETHRO IBILEKE why the state is the centre for arts, entertainment and culture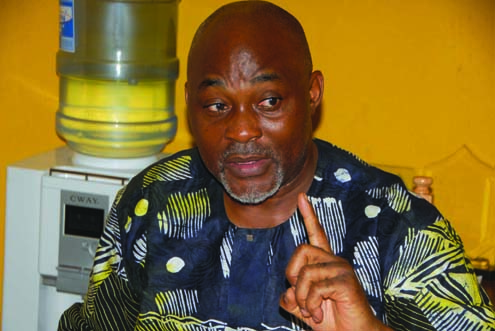 Asaba is being touted as the headquarters of of Nollywood. How did the government achieve that?
I don't know if there was a specific desire on our part to achieve that, but I think what has happened is that with the coming of democracy and especially of this administration, Asaba was turned into a small picturesque city that is very friendly to the eyes, to pictures and it is very serene and quiet. So, it just became a natural haven for filmmakers, who love a place that is serene and quiet, a place that is hospitable, where the environment is enabling enough to promote the work that they do.
We inherited Asaba that was already beautiful and got more beautiful. All we did was that we created a partnership that works.  For instance, we don't tax them; we've not started taxing them. Instead, what my office does is that those that come through us, we negotiate hotel accommodation at 50 per cent. When there is any problem with the law, they just give me a call. I just help to make things a lot easier. In fact, I get calls as ridiculous as 'oh, your people are in front of my house, should I allow them to use my house?' And I would ask: Who is the director? Let me speak with the director. I tell them these people just called me, so please behave yourselves. I think it has really become a good thing, not just for us as a state, but also for business.
I remember that some years ago, from Thursdays, Asaba was quiet and empty. Now, you can't get a hotel room in Asaba during the weekend because there are all kinds of film crews working. People cross the bridge from Onitsha to stay here. I was in the gym one day when I met a young man and we exchanged pleasantries and I found out that he was a legislator from across the river. I asked what brought him over and he said: 'Oh, I am a legislator, I live in Asaba.' That is, he lives here and works in Awka.
I met one of K.O Mbadiwe's grandsons, who is a legislator in Imo State and he has a house here. It's amazing how Asaba has turned out to be a very welcoming place. I think that also explains why the city is fast becoming a conference centre. We have hosted some of the biggest events in Nigeria. We have hosted the army, the Nigerian Medical Association, the Nigerian Bar Association twice; and the teachers. And they always want to come back here. We have become a city of choice for annual general meetings and associations. So, it's a good thing.
Given your your background as an actor, did you influence what Asaba has become–Nollywood's headquarters?
I won't take credit for that. The singular element that attracted  filmmakers here is the fact that the place became a lot more developed, more friendly. I used the word picturesque because filmmakers love nice-looking towns. Another town that film makers love is Cape Town in South Africa. To me, Asaba is all of that and more. There are films that are shot in Onitsha, but the crew lives here. There are films that are shot in Anambra area, but they all live here and they all move to locations in the the morning.
The role I played was to ensure it is friendly. I can do hotel deals for them. If they need things from the police, I write notes for them; when they have problem with the police, I intervene. Constantly, I resolve one problem or the other. When they come here, it is like home. We have jokes amongst ourselves that the big ones cannot pass through without paying homage. It's a good thing for us as a government.
Can you tell us more on what your ministry is doing on talent hunt?
When we came in, I was appointed as Special Adviser on Entertainment and Talent Development. What we decided to do from the beginning was to split the performing arts into dance, music, comedy and acting and we started looking for talents in these areas.
The first one we did was music, so that we could get people off the streets. The entertainment industry is something that inspires easily; it has the ability to draw people easily because the entry level is very low and it doesn't discriminate. Whether you know how to speak English or not, it doesn't matter. The language of comedy today is Pidgin English (Delta is the home), and we can narrow that further to Warri. So what we did was to create the Delta Talent Quest.
I always say that when you start something, you never really know what impact it would make. The way the entertainment industry is is that when it starts to grow, the spin-offs are so far away that you will not be able to trace them. I'll give you an example.
When Nollywood started, nobody paid attention. But apart from what independent television stations started doing by showing Nollywood films, DSTV came and the first channel of AfricMagic was born. Today, how many do we have? There are more than five.
What happens is that more people have been employed in those channels to work. So, employment in AfricaMagic has expanded, which means it has affected that aspect. It has led to the buying of more decoders. When I came to Asaba, every office that I went to that has a television set had AfricMagic channel 24/7. Now, what that has done is that the content level that Nollywood produces increased. Today, when you hear the claim of second or third, it's no fluke.
What also happens is that more people bought more television sets, video players, DVD players and VCD players. The replicating machines of companies in Nigeria quadrupled. There are more duplicating machines and companies in Nigeria now than the entire Africa. When you hear that it's over a billion dollar industry, it is more.
What now happened was that we started to affect the price of printing ink, paper. More printing presses came up because we couldn't cope with the jackets, the posters. More people started importing paper, ink. We started to affect fashion. We started to affect our architecture. What you find is that there is  an explosion that started from something small. All the credit goes to Nollywood.
When you start a small talent quest somewhere and a young girl or a young boy wins a car and  N1million, those who couldn't get in there are encouraged and they start to look for any other competition that they can find. In the last six years or so, about four times, Deltans have won it the Guilder Ultimate Search. Deltans have won Big Brother Africa in the last four years or so. You will find that Deltans are looking everywhere in the entertainment industry to plug themselves into. Comedy is also there.
AY might be a Yoruba by tribe, but he is a Warri boy. The entertainment industry has become a place in which people are seeking fortunes in every way and every manner they can find.
Don't forget that Nollywood contributed to the resurgence of the Nigerian music industry. We have also trained more cameramen in this country than in the whole of Africa. We are the people responsible for what is happening in Ghana, in Uganda, in Kenya, in all of Africa, including South Africa. Don't forget that when AfricaMagic started, it was not shown in South Africa, but today it's one of the most popular channels there. You will find that the little seed that Dr. Uduaghan planted by appointing an actor (I am a member of his cabinet) has resulted in Nkiru Sylvanus being appointed in Imo State; Tony One Week is across the bridge, Bob Manuel just got appointed as well, Okay Bakassi was also part of a government and more are going to come.
There's so much that happens when you open your door and show the possibility that these things are possible.
There are many Deltans in the entertainment industry…
You have the Amatas, the Ejiros, Ali Baba, AY, there is Omawumi, I Go Die, I Go Save and Stella Damasus. Desmond Elliot is also partly from here, Agatha Amata is from here, Sam Okposo, Zubi Enebeli, Faze of the defunct Plantashion Boiz is from here, Don Jazzy is from here, Dr. Sid, the late Justus Esiri and Enebeli Elebuwa were also from here. The reigning winner of Nigeria Idol; there are so, so many. We like to say that there is something about the region that just embraces the arts.
You also need to understand that most of the media houses, TheGuardian, Vanguard, THISDAY are owned by Deltans. There's just something about the Niger Delta, specifically Delta State, that embraces entertainment. The young girl that emerged the first winner of the Delta Talent Quest, Ejiro, is one of the strongest voices in Nigeria today. She just came back from South Africa, where she went to make her video. She is simply amazing. We are strong in entertainment, very strong.
What have been the achievements of your Directorate in the preservation of arts and craft?
Most of these are community-based. What we have done since I came in is to partner with the communities, especially with festivals. My job has been a gradual education and re-orientation and many of these festivals and traditions are beginning to open up for the public to access. My advice, sometimes, is that they could still do their traditional rituals hidden from the eyes of the public, but they need to step out for the generality of the public to be part of them. I'm glad to report that Ijala, which is like the royal cemetery where they bury all kings in Warri, has opened up to the public. It's one of the most amazing places you can ever visit. In Ijala, they plant a tree on the grave of every Olu.
Don't forget that in the promotion and preservation, they don't see the commercial angle of it. Ours is to try and start introducing to the communities branding and promotion of the festivals that their cultures get A bigger chance of being preserved.
For instance, our Okere festival, (what we call Okere Juju) in Warri, the LTVC were a major part of the last one. Travel journalists and TV crews from international  stations come in and record them. Before now, they couldn't record festivals like that, but we've been able to educate them to allow this so that the dissemination will go wider than what it is presently.
What is your directorate doing about beautification and decoration of the cities, towers and things like that?
In fact, there are some that we consider special, but funding is always never enough for that. Right now, some of the major roundabouts in the state were brought under the Directorate of Special Infrastructure so that they could be specially funded. So, ornamentation and decoration of structures are going on in the state. All the major ones we are doing now are from Effurun Roundabout in Warri to DSC, and to the Oleri Resort Village. Oleri is our biggest project now; the whole place is a sea of white sand and there is a bridge connecting the community. It's amazing how development can transform a place. We are working on 250 acres of land. The place is going to have a five- star hotel, a three-star hotel, a mini-golf course, shopping area, cinemas, museums, casinos and conference facilities. It's really huge.
We also have one in Ogwashi-Ukwu, with a game resort like a safari. The interesting thing about this one is the fact that it's going to have a major research land for animals and its going to contain all the major animals in the world.
In what way has the governor been assisting the ministry?
He is our major collaborator. Without him, we will not be here. He loves entertainment,  culture and he has, at every point, assisted us in our bid to make sure that our partners are comfortable. We have access to him at any point. If you don't have a governor who is interested in this sector, you won't be talking about Delta beyond oil because the whole idea of Delta Beyond Oil is a Delta that is strong in tourism, commerce and every other are. Tourism is one of the strongest points. By the sheer number of those involved, you cannot ignore the sector.

Load more